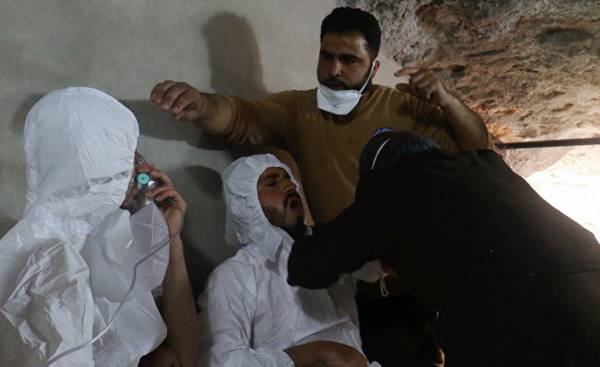 While a terrorist attack on St. Petersburg- now there are about 50 killed and wounded — in the city of Khan Sheyhun in the North of Syria in Idlib province committed the crime of the great war: poison gas destroyed 58 civilians.
A dangerous coincidence. Crises and terrorist attacks have become interdependent.
Events in St. Petersburg is a crime against the civilian population, committed by a native of Kyrgyzstan, a member of the IG (banned in Russia — approx. ed.). A native of the same state has committed a terrorist act in Istanbul on the eve of the New year.
What happened in Khan Sheyhun is a shame for the whole world, it is children who try to open eyes after a terrible attack is panic and anger.
The whole civilized world opposed the attack in St. Petersburg, but if there is one this same world in condemning the crimes in Khan Sheyhun?
From the face of the Western world expressed by France and the European Union.
Federica Mogherini, high representative of the European Union for foreign Affairs, commenting on the killings in Khan Sheyhun, said that the responsibility lies with Syrian President Bashar al-Assad. At the same time, the Minister of foreign Affairs of France Jean-Marc Ayrault urged everyone not to let him shirk responsibility, requiring the convening of an emergency meeting of the UN security Council.
The regime of Bashar al-Assad is known for his audacity and ability to find excuses, as it was in the known history of Abu Ads (Palestinian, accused of killing Prime Minister Rafik Hariri in 2005; a version that actually undermine involving high-level officials of Syria — approx. ed.). He now refuses to admit his guilt. The opposition is angry — good! What do You mean? They were angry that poison gas bombing people in Khan Sheyhun?
The Russians deny any involvement in the incident, stating that their aircraft was not there.
We're pretty sure Assad is repeating what was done in Huta, when he threatened Obama to cross the red line (the chemical attack in ghouta on August 21, 2013 — approx. ed.).
The main representative of the Syrian opposition at talks in Geneva Mohammed Sabra said that the chemical attack in Khan Sheyhun negates all the results of the Geneva settlement.
Honestly, the terrorist attacks in Russia after its intervention in Syria was expected. But what's next?
When Washington, London and Paris are trying to condemn Bashar and publishes international resolution, especially after a chemical attack, Moscow and Beijing immediately come in and seven times veto!
Yes, what happened in the Russian subway train is a crime, but the events in Khan Sheyhun — also a crime.
Evil begets evil. God save us from all evil.
Comments
comments