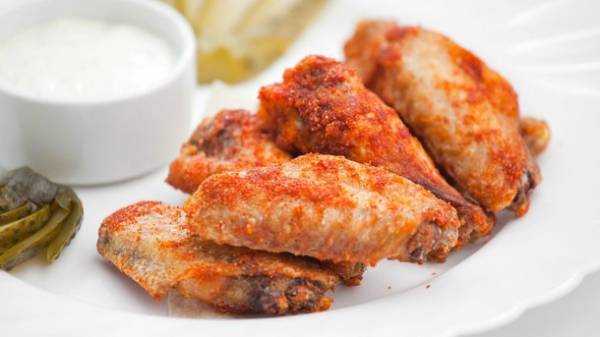 Famous Hollywood actress became the decoration of dozens of films, including "lost in translation", "Girl with a pearl earring," "Match point". Slender talented artist successfully coped with the model, adorning the cover of most prestigious magazines, and has even become a popular singer. With all this 32-year-old beauty loves to eat. Her favorite dish – spicy wings that Scarlett sometimes prepares herself, writes sobesednik.ru.
SEE ALSO
Recipe of the day: omelet with tomatoes
Today we will try to cook the wings in the glaze according to the recipe of a film star.
Ingredients:
chicken wings – eight pieces;
soy sauce;
flour;
Tabasco sauce (two tablespoons);
olive oil;
honey;
peppers and any vegetable oil (one tablespoon);
garlic powder and red pepper.
How to cook
Step 1.
My wings, gently cut and fold in the package.
Step 2.
Flour, garlic powder, paprika and pepper, mix thoroughly, add in wings and stir, shaking the package. Leave for 5-10 minutes.
Step 3.
On the pan put the foil, grease with vegetable oil and spread on her wings. Put for 20 minutes in oven preheated to 200 degrees.
Step 4.
Make the glaze by mixing the Tabasco sauce, honey, soy sauce and olive oil.
Step 5.
Take out the baking sheet. Without turning off the oven, coat the wings with the glaze on one side and place into the oven for 5-7 minutes.
Step 6.
Again remove the pan, turn wings over again and smear the glaze. Again put the pan in the oven for 5-7 minutes. Glazed wings with garlic ready.
Comments
comments