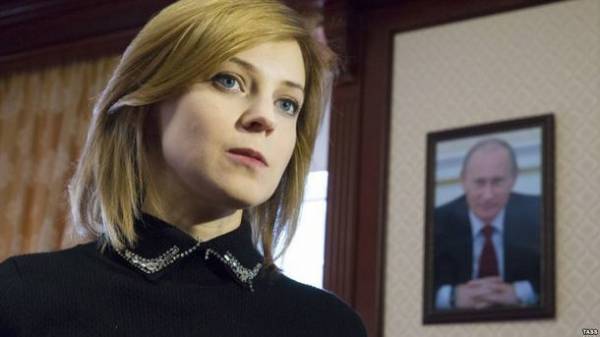 The former so-called "Prosecutor" temporarily occupied Crimea, and now the Deputy of the state Duma of the Russian Federation Natalia Poklonskaya said that he had not received any documents from the Prosecutor General of Ukraine regarding criminal proceedings against her. She told about it in the comment "RIA Novosti".
"The fact that there are under investigation, has been discussed earlier, so nothing new the citizen the Prosecutor said. I don't know (the second criminal case. – Ed.) because any procedural document for the entire period of intense activity in media General Prosecutor of Ukraine I didn't get," said Poklonski.
SEE ALSO
Taylor starred in the clip in the occupied Crimea
As reported yesterday in office of public Prosecutor of the Autonomous Republic of Crimea, Natalia Poklonskaya against Ukraine are investigated in two criminal proceedings: treason, and to ban the activities of Mejlis of the Crimean Tatar people.
According to the occupation of the Crimea worked in the Prosecutor's office of Ukraine, and also was a Prosecutor of the ARC. In the spring of 2014, was appointed by the occupation authorities, "the Prosecutor of the Republic of Crimea".
It Poklonskaya initiated criminal prosecution of the Crimean Tatars and the ban in 2016, the activities of the Majlis.
Comments
comments