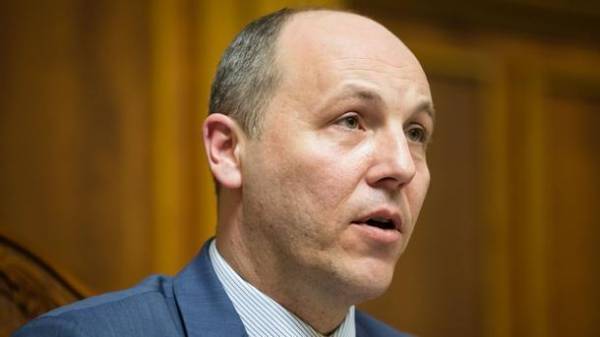 In recent Ukraine events occurred, which can lead to loosening of the Ukrainian state from the inside. And this at a time when Ukraine is at war against the Russian aggressors. This was stated by the Chairman of the Verkhovna Rada Andriy Parubiy, opening the session of Parliament on Thursday.
"I find it unacceptable when people who have the mandate of people's Deputy, carried out the attack on the staff of the Ukrainian police and the Ukrainian police to take this person. When they stand at checkpoints and carry out their duties, no one has the right to attack them," he said.
The head of BP called unacceptable actions of the MP, which, under the guise of a mandate, can carry out the attack on the police, to hurt them and take their service weapon.
"I believe such facts to humiliate not only the Parliament and each of Ukrainian MPs – they all humiliate the Ukrainian state. As a result of these events happened yesterday, the incident in Parliament. They will all be studied. I gave instructions to investigate. Regarding this investigation, I will inform the heads of factions and deputies," – said paruby.
The speaker also said that on Friday, March 17, the Parliament will be a ceremonial meeting on the occasion of the 100th anniversary of the Ukrainian revolution.
"I would like to remind you that the destruction of the institutions of power, the mutual struggle of the Ukrainian politicians of the time led to the loss of Ukrainian statehood and subsequently to famine and mass repressions", – he stressed.
We will remind, according to police, on March 14 at the checkpoints near Slavyansk and Kramatorsk the group of persons headed by the people's Deputy Vladimir Parasyuk attacked the militiamen, with the result that injured 7 police officersreceived injuries of varying severity.
Yourself blockade declare the beating of a column of activists at a checkpoint in Slavyansk, the people's Deputy Vladimir Parasyuk posted a video of the conflict with the police.
Wednesday, March 15, the Verkhovna Rada failed to work. After a half-hour break announced earlier, the meeting began with a presentation of the people's Deputy from "popular front" Yuri Birch.
In Parliament he strongly criticized one of the deputies, who the night before got in a fight in the area of Slavyansk and Kramatorsk, beating police officers.
After the speech, Birch, Vice-speaker of the Verkhovna Rada Oksana Syroid suddenly announced morning session of the Parliament.
In turn, people's front and the PPB intend to send Oksana Syroid resign from the post of Vice-speaker of Parliament. So, the people's Deputy from "popular front" Andrew Teteruk said, closing early session of Parliament Syroid covers illegal activities of some MPs, in particular, Volodymyr parasiuk at the checkpoint in Slavyansk.
Comments
comments