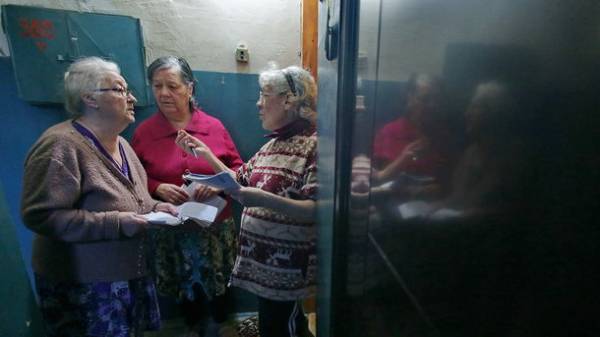 A few years ago, the average from each paycheck Ukrainians "retirement" gave 37%. In 2016, the rate of single social contribution (ERU, 82.5% of which goes to the Pension Fund) reduced to 22% of salary. As recognized in the Ministry of social policy and the Pension Fund, this decision led to a sharp rise in the deficit. If in 2015 the pension is not enough around 80 billion already in 2016 from the state Treasury had to compensate the deficit of 145 billion.
So, at the moment, Ukrainians give "retired" for about 22% of their salary. A minimum contribution of PF – 704 of the hryvnia, and the minimum pension – 1312 hryvnia. The main problem of the current system – the ratio of taxpayers to pensioners – one-to-one, many employers pay a single contribution from the minimum wage.
At the same time in Belarus the pension is "worth" 29% of salary, and the retirement age from next year men will be 63 years and for women 58 years old. Mminimalna pension – UAH 2238 (or a bit more than 170 Belarusian rubles), and minimum contribution "retirement" – 1010 UAH. According to the National statistics Committee of Belarus, contain 10 employees, 5 retirees.
In Poland pensioners receive two pensions from the solidarity and savings levels. Such a system was implemented in the late 90's. the "Cost" of the pensions of 19.52% of salary. 12% goes to the joint level, and 7.5% for individual retirement accounts. The minimum pension in Poland – more than seven thousand (1,000 zlotys). That's five times more than in Ukraine, but several times less than, for example, in France.
In Poland the retirement age for men is 65 and for women 60 years. A few years ago, the government planned to raise the retirement age to 67 years, however, under pressure from the poles the decision was canceled.
Almost all Polish pensioners over 75 years of age enjoy the benefits – free medicine, subsidised travel on public transport.
In the USA the retirement age is 67 years. In addition, for pension only 10 years to pay 15% of their salary to the Pension Fund. American pension system appeared in 1935 when Franklin Roosevelt signed the law "On social security" (Social Security Act). The average pension – $ 1,500 (39 thousand hryvnia at the current exchange rate of the hryvnia)
Comments
comments