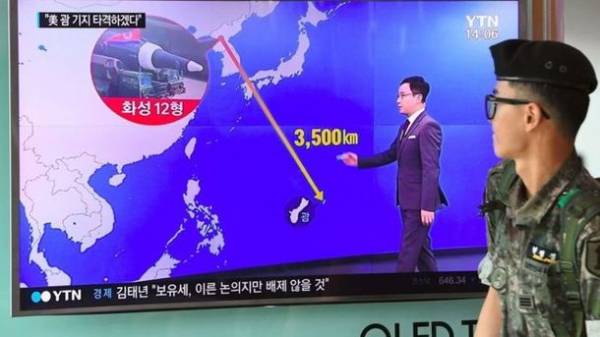 The author of the study on the pages of the New York Times Michael Ellemann, in which it is accepted that the success of the DPRK in nuclear program can be associated with the theft of Ukrainian technologies, said that the journalists had made mistakes in his conclusions. He said this in an interview with "Voice of America".
"I don't know what sources were used by the New York Times. I only know what I told them. It became apparent that North Korea gained some technology. If you narrow down the sources of this technology, analyzing her last test and the engine parameters, it is possible to understand what changes they made. And this all reduces the range of sources that could provide this technology," he said.
Ellemann recalls that until 2006, Russia bought "Yuzhmash" launch vehicles Tsiklon-2. The scientist emphasizes that he had not had any contacts with the Russians.
"I'm not a fan of Putin. I have great sympathy for Ukraine. I am against the annexation of the Crimea. I do not participate in the promotion, carried out by Russia. If you carefully read what I wrote, it becomes obvious that I'm not sure that the technology supplied from Ukraine. If these technologies and delivered from Ukraine, then they (the Ukrainian authorities. – Ed.) I did not know", – he said.
Ellemann also admitted that helping to steal the secret data could and the lower class workers "Yuzhmash" because of the economic situation.
SEE ALSO
The United States responded to the scandal with North Korea's missile

We will remind, earlier on the website of the American daily Newspapers The New York Times published an article with the headline "North Korean missile success is associated with the Ukrainian factory, the researchers say". In this article, citing a research specialist missile issues at the International Institute for strategic studies (International Institute for Strategic Studies, IISS) Michael Alleman (Michael Elleman) States that the recent successes of the DPRK in the testing of Intercontinental ballistic missiles,"were made possible through purchases of powerful rocket engines on the black market, it is likely that the Ukrainian plantthat has historical connection with the Russian missile program."
After this was published several rebuttals in the Ukrainian media company "Yuzhmash", Secretary of the NSDC of Ukraine Oleksandr Turchynov, the Space Agency of Ukraine.
NSDC Secretary Oleksandr Turchynov has responded to the scandal with the engines for the missiles of the DPRK.
Yesterday, August 15, the author of the report on the supply of Ukraine missile engines for the DPRK said on Twitter that claimed that Ukraine is a supplier of rocket engines to North Korea.
Comments
comments