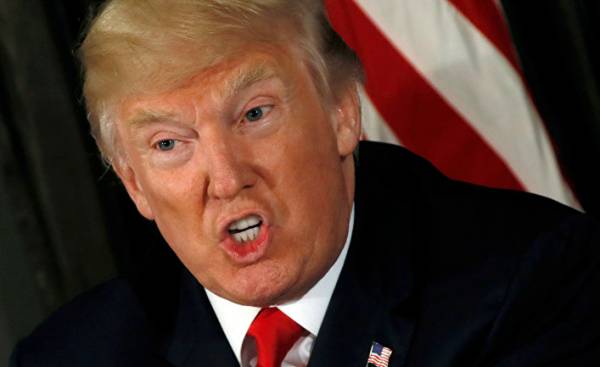 Only under great pressure Donald trump still condemned right-wing violence in Charlottesville — and quickly took back his words. Even his former Director of public relations of Scaramucci would be better.
A little more than 24 hours before U.S. President Donald trump again. Those who are on the violence on Saturday in Charlottesville said it came from "many sides". Not to mention the fact that a young woman was killed by a car, which is white nationalist sent into the crowd of demonstrators. Right-wing radicals later welcomed the trump network because he wasn't convicted.
Trump did it only on Monday. Probably under pressure from the few rationally-minded people in his team of advisers. And under pressure from many Republicans who want the violence of the right has shown how it is. Trump dutifully read it, without noticeable sympathy. To ask questions is not allowed.
However, this Tuesday in his new York Trump Tower, which he visited for the first time after his inauguration, he took back his words. Yes, horrible what happened to that poor woman. But the violence was on both sides, isn't it? And he is the only politician who will say it out loud. In fact, it is unlikely there can be something to add. Violence was on both sides.
Except that one, waving swastika flags, shouting racist and derogatory slogans, wanted all sorts of misfortunes to the Jews, blacks, Muslims and anyone who is alien to them. While others, out of pure anger began natural an unauthorized counter-demonstration.

USA — the birthplace of freedom of speech
USA is the birthplace of freedom of speech. The first amendment from 1791, guarantees freedom of speech and Assembly. It also means that no one opinion can not be considered so absurd that do not fall under the protection of this article. Here everyone can get away to even deny the Holocaust.
But there is something that underestimates trump: the United States is very acute sense of moral limits of freedom of speech. Xenophobia, racism and misanthropy clearly goes beyond these boundaries. This position is entrenched among conservative layers. Actual and estimated casual racism is constantly discussed in the United States. The American community was very sensitive to this topic.
Real gang in Charlottesville has as little to do with American society as AfD in Germany with the German. It represents only a small minority. The United States would not be without migration But trump gave impetus to the minority indulged their hostility, made the xenophobia again acceptable. On Twitter he attacked everyone and everything.
Only not white nationalists. But the US is different. It is a country in which almost everyone can share a family story of migration. It is a country which would not be without the often difficult migration from Europe, Africa, South America, Asia and the Arab world. Trump should at least once visit the Museum of immigration on Ellis island in his hometown of new York. It describes many lives of migrants. Ancestors trump has also been started in the United States as immigrants.
Immigration is integral to American identity. If trump is now giving the impression that he does not reject the beliefs of radical nationalism and fantasies of white supremacy, and conservative Americans, he will be on the wrong side.

Scaramucci unexpectedly reasonably expressed in the television program
Trump has no business before this, and many other issues. He considers himself the best President of all time. But now his conservative supporters gradually Wake up.
The former 10-day Director of communications Anthony of Scaramucci unexpectedly wise spoke on Monday evening at a late-night talk show Stephen Colbert. He had not seen in the White house no racist. But that he is very upset, as this is a high level of tolerance towards racism in the White house.
Many people in the audience or their family faced discrimination. Of course, his own family. He believes it is "disgusting and reprehensible". And every day of his life, he is going to fight this. Racism is "completely unacceptable".
Scaramucci understood it. Trump — no.
Comments
comments