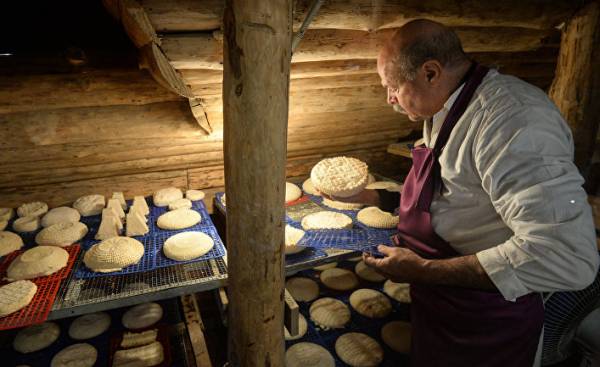 Initially the idea was to create a store of Italian and French delicacies, says the head of the brand Julia Bulaeva. However, due to international politics, the range of products in the Moscow store has changed.
Three years ago, Russia imposed a ban on the import of various food products, e.g. dairy products, cheeses and sausages, including from EU countries. The ban was a response to anti-Russian sanctions, which were established by Western countries because of the seizure of the Crimea and support separatists in Eastern Ukraine.
In the line cheese shop Bulkeley now there is a Russian brie and Camembert from Tunisia. Presents and lots of Swiss cheese because Switzerland food sanctions are not affected.
Retaliatory sanctions of Russia affected Finland, they were notable for the emergence in Finnish stores so-called "Putin cheese". General Director, Finnish-Russian chamber of Commerce Rekolainen Jaana (Jaana Rekolainen) says that every year Finnish exports to Russia before the sanctions was estimated at about 400 million euros. He has now hit 25%.
In Russia, the sanctions affected the growth of the food sector, says Professor of the HSE Natalia Akindinova. Last year, food production increased by 3.1%, although total GDP has declined. The growth lasted this year.
This situation is beneficial to manufacturers because foreign competitors were withdrawn from the market. In this regard, in Russia, many are lobbying for the extension of the sanctions.
The quality of food still remains a problem, according to Akindinova. Dairy products milk fat substitute for palm oil, the origin of products may be unreliable, and the packaging is not always given all the details about the product. According to Akindinova, in Russia there is nobody who would be able to defend the position of consumers.
Most are disappointed by the sanctions prohibitions restaurateurs and retailers, but this attitude requires courage.
"They're afraid others might blame them dislike their own country".
According to research, the Russians gradually began to get used to life without foreign products. In the beginning of the month, the media reported polls, that at the end of 2015, the most dissatisfied citizens of the country lived in the North-West of Russia, that is, in particular, in Karelia and Saint-Petersburg. There in the stores have traditionally been the products, for example, from Finland. But this year, the Russian regions, located near Finland, no longer occupy a special place in the study.
Hardest saddened by the townspeople because rural citizens buy less foreign goods.
"15-20% of the country's citizens unhappy, and I think that this data is accurate," says Akindinova.
Bulaeva says that customers of the store are to the proposed range of understanding. According to her, Russia has a lot of new, young producers, and the product quality improved markedly.
Shop Bulkeley opened just a few weeks ago, but this store has existed in Moscow for 1,5 years. The demand for delicacies to eat, she says.
"We plan to open new stores."
Comments
comments