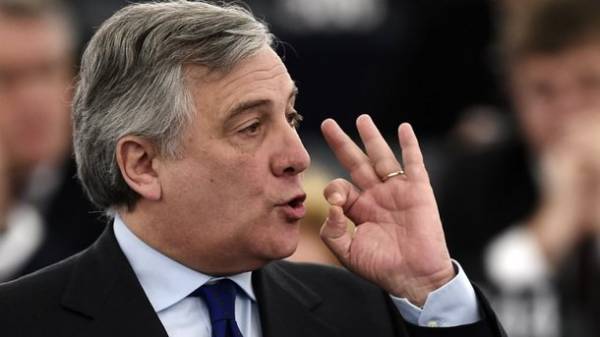 The European Parliament will contribute to the preparation of the Rome Declaration on the occasion of the 60th anniversary of the Treaty of Rome, said Thursday at a press conference in Brussels, after a speech at the EU summit, the President of the European Parliament Antonio Tajani.
"This anniversary of the 60th anniversary of the Treaty of Rome cannot be just a formal event. It should be a moment for the restart of Europe, which, of course, change, but which is decisive for the half a billion citizens," said Tajani.
He noted that the European Parliament will actively participate in this process, and organizes a series of events in Brussels and in Rome.
Speaking on the future of Europe in its report on the European Council meeting where the newly elected President of the European Parliament were invited for the first time to speak before heads of States and governments of 28 countries, Tajani stressed that "today, more than ever, we recognize the importance of European unity".
"Europe – said Tajani – need to be reformed rather than weakened. All the institutions (the EU – ed.) must redouble their efforts to give the answers expected of us citizens. This is only possible in working hand in hand, trying to understand the motivation of others."
According to him, the only obstacle populists can only be evidence that EU member States work together to "Union of the results."
The restart of Europe, Tajani said at a press conference should take place "under the political angle."
"We need to prove the unity. There are very serious challenges. The challenge in the trade – it is necessary to resist the competition of China, the United States, Russia, and India. There is an agreement with Canada. Need to play a role in Africa, Latin America. Begins to disturb the situation in the Balkans. Need a political Europe", – said the head of the European Parliament.
In his opinion, Europe needs a priority to address those areas where national States are not able to give answers to its citizens.
"We need a political choice: to remain United and try to solve problems together. That wasn't always," said A. Tajani.
Regarding the "Europe of several speeds" discussed recently in connection with the forthcoming changes in the EU, the European Parliament President said: "There may be small sores that need to heal, but I believe that Europe has the strength to overcome this malaise. As for the "different speeds", I don't think it is now necessary to change the treaties (the EU – ed.)".
Tajani believes that the current treaties allow the member States "different reality", allow them to make "a choice" to which other countries can join later.
Comments
comments