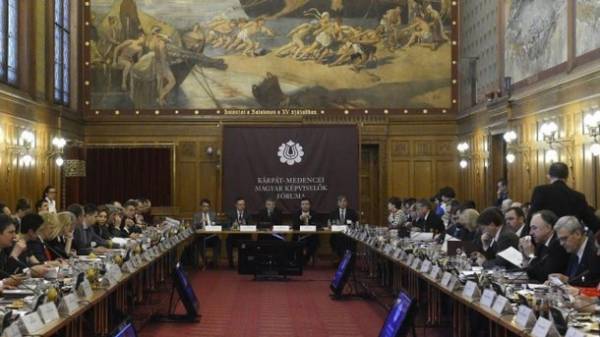 In the Hungarian capital Budapest on March 24, hosted the forum of Hungarian MPs from the Carpathian basin countries, was attended by representatives of senior management of Hungary, which confirmed the willingness of the government to give strong support to the Diaspora of Hungarians in neighbouring countries.
This writes mukachevo.net.
The publication notes that among chairing the meeting was attended by the speaker of Hungarian Parliament Laszlo Kover, Minister of foreign Affairs Peter Siyarto, Secretary of state for national policy Arpad Janos Potape and others. It is reported that participation in the event was attended also by the Deputy of the European Parliament from Transcarpathia Andrea Bochkor.
The Minister of foreign Affairs of Hungary péter Szijjártó during the forum stressed the importance of trust between neighbouring countries to tackle problems of ethnic Hungarians.
"We could choose a strategy that won't operate until then, until we see real solutions to problematic issues; however, our government decided to work together with them for mutual success, to provide the opportunity to address issues that most affect the lives of ethnic Hungarians," said he.
Note, the forum adopted a statement in which the deputies welcomed the increase in the number of electoral alliances with the participation of the local Hungarian parties in neighbouring countries over the last few years.
"And expressed confidence that through closer cooperation of the Hungarian organizations in the region have the opportunity to insist even more strongly on the interests of the Hungarian communities," notes mukachevo.net.
Participants stressed the importance of striving for autonomy of the Hungarian communities in the Carpathian basin was included in the agenda of the European Parliament.
"The deputies called on the Hungarian government to use all possible means to protect the rights of Hungarian communities in the region with special emphasis on the use of their native language. And welcomed the programme of the Hungarian government on the significant increase in the number of checkpoints on the borders required to communicate with neighbouring countries and development programme of the network of kindergartens where the education is in their native language", – stated in the message.
MPs urged to bring the issue of discrimination against the Hungarian community in Romania for consideration in the Hungarian Parliament and in the Council of Europe, European Parliament, European Commission and OSCE, as well as to inform the government of the United States.
Note also, during his visit to Germany, Minister of foreign Affairs of Hungary Peter Siyarto stressed the importance of the support of the Hungarian Diaspora from the current government of Hungary in different countries.
"We have to work to support the Hungarians in different countries of the world … the government of Hungary pays special attention to the Hungarian Diaspora, which will receive the necessary support to preserve the identity," he said during a visit to the Hungarian Sunday school in Stuttgart, according to OS.
Earlier it was reported that the Deputy Prime Minister of Hungary made for the autonomy of Hungarian minorities abroad.
Comments
comments