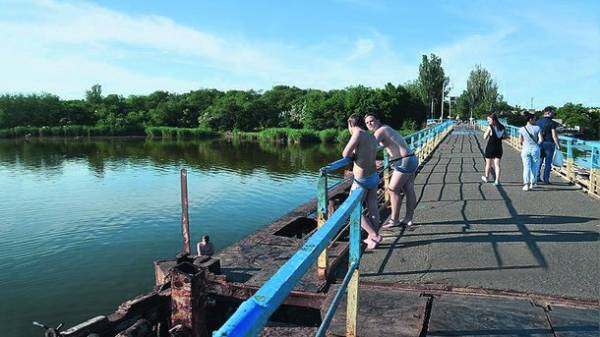 In the center of Nikolaev revealed the causative agent of cholera. Dangerous bacteria "swim" in the pedestrian bridge in the river Ingul, and to identify its managed by regular laboratory tests of water. Doctors have not yet recorded cases of the disease, but admit the possibility of a pandemic.
Doctors believe that bacteria could lie on the bottom of the pond unnoticed for decades or fall into the river outside. "It can be bacteria that lived at the bottom since the epidemic of 1995, and now has emerged," — said the head of the local laboratory center MOH Ukraine Vladimir Klochko.
Experts believe: not yet cases, early to panic, but I admit that bacteria can get to other rivers, particularly the southern bug, with a length of 806 km, flowing through Khmelnytsky, Vinnytsia, Kirovograd, Odessa and Nikolaev region. "If it was a natural focus, the mouth would be seen in different places. But it is found only in the area of Ingulsky bridge where is located the collector pipes", — said the infectious diseases Vyacheslav Shklyarov, stressing that in the Nikolaev area repeatedly found the agent of cholera, the good, the epidemics is not led.
However, doctors warn that cholera is a dangerous intestinal infection, which without treatment can lead to death. To be safe, I suggest washing hands often, eating fish only after the heat treatment, do not buy products in the spontaneous markets.
"Don't go swimming in the river, there to wash the fruit before use or to rinse the dishes, even let the boats with the kids now is not necessary", — said the chief physician of the Nikolaev regional infectious diseases hospital Svetlana Fedorova. The first signs of cholera experts call vomiting and diarrhea that lead to severe dehydration.
To help the residents of urban and regional services resulted in a state of full readiness, report in a press-service Nikolaev yeah. "Regional infectious hospital equipped with necessary medicines in case of spread of the disease. Also worked the possibility of opening a field hospital in case of mass diseases", — assured officials. In addition, the city is the issue of the closure of the spontaneous markets and the prohibition of swimming at the beach.
THE EPIDEMIC IS READY
The Nikolaev physicians assure to meet the cholera is ready. "Every spring services fulfill actions in the case of flash, called it "playing the cholera." Pinpoint the time of arrival of the ambulance, recorded the actions of the doctors and the administration. Everyone from the nurses to the doctor, you know what to do, — told "Today" the head physician of the city clinic №1 Irina Plotkina. — Cholera survives in the natural environment, and our task is not to let her get to the man." Recall that in recent times because of the pandemic of cholera (1995) in Ukraine got sick of 548 people, 10 of them died. And in 2011 due to bacteria in Mariupol closed the beaches, there were no deaths.
Comments
comments