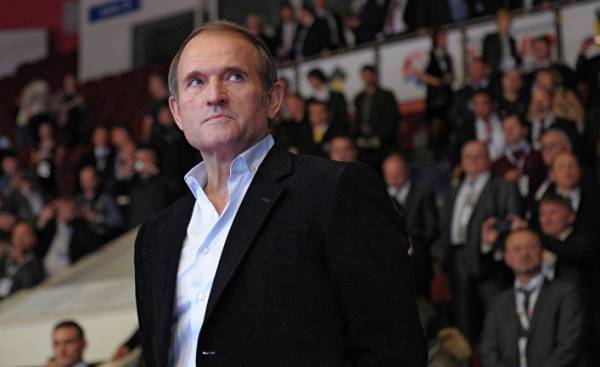 The rejection of a failed foreign policy, a return to the traditional and perspective markets, the launch industry and increased exports will stop the total impoverishment of Ukrainians. This was written by Viktor Medvedchuk in his blog.
Summarizing the intermediate results of the reforms, Yatsenyuk, Groysman, who, in fact, reduced to higher prices and lower social standards, the politician drew attention to the total impoverishment of the people.
"86% of citizens surveyed in June, Research & Branding Group, said that they are forced to skimp on certain articles of the family budget. Analysts point out that most Ukrainians save on clothing, shoes and food. Many have to cut back on such vital expenditures as funds for the treatment and medicines. Hence the high morbidity and mortality," the politician said.
While the exact number of Ukrainians who are below the poverty line, it is unknown drew attention Medvedchuk.
"To hide the real situation in the country, officials, shouting about the success and the victory of reform, even developed three criteria groups for the assessment of poverty. However, to overcome poverty is shameful for the European powers in the twenty-first century phenomenon — not doing anything. Although this can and should be done," — said the leader of "Ukrainian choice — the Right of the people".
In order to stop the impoverishment of the nation, I'm sure Medvedchuk, enough to abandon a failed foreign policy, to return to the traditional and perspective markets, to launch the work of the industry and to increase exports.
"All these processes are interrelated: it is necessary to run one, they start to work as a harmonious mechanism. To implement the "Ukrainian economic miracle" more than real. In the history of our state already had a stage. Let me remind you: before the arrival of the "orange" Yushchenko's team, Ukraine has demonstrated a tremendous economic growth, the GDP growth rate was 12.4%, the Ukrainian economy is considered to be the most promising in the post — Soviet space", – said the politician.
Medvedchuk says that the "Ukrainian economic miracle" don't need no "crowd reformers of the Polish-American-Georgian-Baltic spill", or advice and programmes of international creditors.
"We need competent managers, professional managers, not flashy, but the real patriots of Ukraine who are able to think strategically — for 5, 10, 20, 50 years ahead, who are ready to work in interests of oligarchs and the international usurers, but in the interests of the people. Only then will we be able to provide decent wages and pensions, European standards for Ukraine", — summed up the politician.
Earlier, Medvedchuk said that anti-Russian US sanctions will affect Ukraine.
Comments
comments