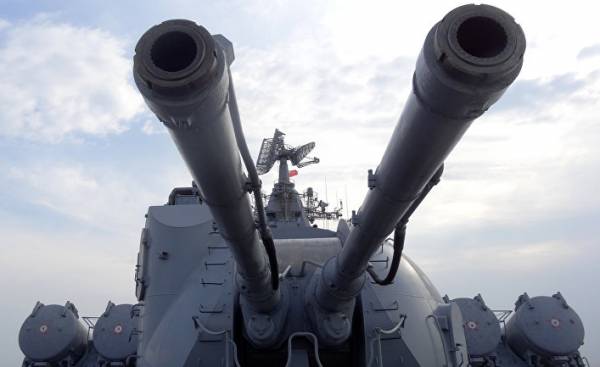 26 Aug 2015 Russia and Syria have signed a bilateral agreement according to which the air group of the Russian Federation may use a database Hamim indefinitely and free of charge. Under the contract Russia can import and export into Syria any weapons, equipment, and materials, all of these actions will not be taxed. Members of the Russian air group are entitled to diplomatic status.
Russia still does not disclose details about the number of Russian troops in Syria. Figures published in the media, often contradict each other. For example, on October 1, 2015, it was reported that in military operations in Syria to protect military base of the Russian army involved 7th guards airborne assault (mountain) division. However, on 3 June 2016, the commander of airborne troops Vladimir Shamanov said that "airborne troops are not sent to Syria." 20 December 2016, again from media reports we learned of the death of the commander of the Russian airborne assault battalion 56th division of the Russian armed forces during the battle of Palmyra and wounding his comrades. December 7, during the operation to liberate Aleppo killed a Russian military Advisor, Colonel Ruslan Galitsky.
However, after a comprehensive analysis of all media reports, we can approximately count the number of Russian troops, weapons in Syria, to assess the extent. To successfully wage war, Russia was required to send to Syria military air and mixed troops. Primarily from satellite imagery is noticeable that the Russian base is 12 series bombers su-24M and su-25SM attack aircraft, 6 fighter-bombers su-34, 4 aircraft fighter su-30CM, as well as several Mi-24 helicopters. 17 November 2015, the Russian defense Ministry announced that Syria sent 25 units of long-haul aircraft, including 8 fighter-bombers su-34 and 4 su-24.
November 20, 2015 Russia announced that 69 aircraft military-air forces of Russia join the fight in Syria. March 15, 2016 major Military air forces of Russia (su-24, su-25, su-34, Mi-24, Mi-35), located in the city of Tartus began to leave Syria. At a military air base Hamim in the Syrian armed forces remained in their places. At the same time a new Russian attack helicopter Mi-23Н and anti-submarine helicopter Ka-25 went to Syria. Russian military aircraft is not only in Syria. For example, the supersonic strategic bomber-missile Tu-160 and Tu-95MS, Tu-22M3 is located on a strategic military base in Hamadan in Iran. Russian fighters are often going to Syria with this base.
As of April 2017, more than 84% of the Russian air force pilots took part in military operations in Syria. The Russian aircraft have participated in more than 23 thousands of battles, by about 77 thousand offensive, along with others, was destroyed around 725 training camps of the enemy, 405 plants for the production of ammunition and 1,500 units of military vehicles, killing 35 thousand enemies, among which 204 was of the rank of commander. According to others in may 2017, half of the Russian aircraft based in Hamima, returned to Russia.
Marines
At the beginning of the war the Russian army has appointed 810-th separate brigade of the marine corps responsible for military air base in the city of Latakia in Syria and a naval base in Tartus. According to unconfirmed reports, the Russian marine corps is fighting near the Syrian province of HOMS and Palmyra. Among the foot soldiers, one Russian soldier died in combat during the performance of their duties, the other died during the delivery of humanitarian assistance.
Motorized infantry
In addition to Marines at a military air base Hamim are mixed infantry units, but information about it is very little. According to the American analytical center Stratfort, this base is located about seven units of T-90 tanks and several armored personnel carriers BTR-80.
Special forces
As reported, to protect the Russian air force air base in Syria has been sent detachment of special forces of the southern military district. It has also been reported that 1 October 2015 in Syria killed a soldier of 346-th brigade of the Russian GRU. On TV channel "Russia 24" in the program "Vesti Nedeli" it was said that from December 2016, the Russian special forces joined the Syrian army during the battles for Aleppo.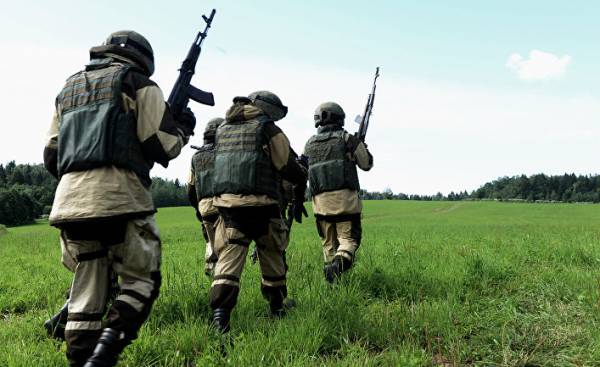 © RIA Novosti, Sergey Pyatakov | go to photolanguage special forces Regardie for free dropping dropping
Rocket and artillery troops
17 November 2016 the Russian defense Minister Sergei Shoigu to report to President of Russia Vladimir Putin, stated that the 41st group army (equipped with 152-mm gun-howitzer) 120th independent artillery units located in the town of Yugra, Kemerovo region, was sent to Syria on the battlefield. News about the official awarding of the assistant battalion commander Podolsky serves as an indirect confirmation of this. In April 2016, Russian artillery units were deployed in Northern Syria to free Aleppo. In February – early March 2017, two counter-battery radar "Zoo" were sent to Hamim, in order to detect positions of the artillery of militants who violate the truce. Israeli satellite images show that by the end of 2016 the Russian military air base in the town of Hamim were located, at least two (some report that six) missiles "Iskander", which are equipped with missiles of a class "earth-earth" SS-26 with a range of 500 kilometers.
Air defense forces
The Russian army has created in Syria, the joint air defense system, to ensure strategic security, delivery of essential household goods, as well as the security of the air base in Hamima and naval base in Tartus. This air system includes air defense system S-300БМ and s-400, "Pantsir-C1", "Buk-M2" medium-range, upgraded by Russian experts "Wasp", "Pechora-2M",-200. In addition, Russia plans to deploy a system "Krasuha".
The army corps of engineers
From March 2016 to March 2017 the Russian army at least twice sent an engineering unit in the Syrian Palmyra and Aleppo to clear the city. During the operation, it was neutralized to approximately 18 thousand items of unexploded ordnance, cleared 825 hectare site and saved 8,500 buildings. In the Eastern part of Aleppo, the Russian sappers defused around for 29.56 square kilometers of land, 945 kilometers of roads, about 4500 buildings (including kindergartens, schools, hospitals), neutralized 36 thousand explosive objects, including 20 thousand improvised explosive devices.
Naval fleet (mostly Mediterranean)
Located in the Mediterranean sea of the Russian regular Navy has 10-15 successive ships. Ships involved in ground and air operations in Syria. Initially, led was the missile cruiser "Moskva". The operative connection consists of a ship "ladnyy", "Bold", "Inquisitive", a missile ship R-109 "breeze", a large amphibious cruiser "Saratov" and other auxiliary ships. Later, in the Mediterranean sea was sent to the submarine "Rostov-on-don", and the ship of the Baltic fleet "Vasily Tatischev" was replaced by the cruiser "Moskva".
From 7 October 2015, the four ships of the Caspian fleet have joined military action in Syria: missile ship "Dagestan" (project 11661), small missile cruisers "Grad svijazhsk", "Uglich", "Velikiy Ustyug". December 8 was engaged by the submarine B-237 "Rostov-on-don".
13 Feb 2016 joined combat duty seagoing minesweeper "Kovrovets" and small missile ship black sea fleet "Green Dol". 9 August 2016 these missile ships were deployed in the Eastern part of the Mediterranean sea to perform three launches of cruise missiles of sea basing "Caliber" to hit targets in Syria.
In September 2016 in the Mediterranean sea was about six combat ships to the Russian Navy. November 15, 2016, the ship "Admiral Kuznetsov" took part in the fighting. In two months Russian forces have destroyed more than 1,000 terrorists. In January 2017 at the orders of Vladimir Putin it was decided to reduce the permanent operative connection of the Russian Navy in the Mediterranean sea.
Military police
In 2016, had sent a detachment of the Russian military police to ensure security of Russian military facilities and traffic. In December 2016 in Aleppo were also sent a detachment of military police to assist local government in maintaining order in the city.
Satellite and unmanned vehicles
For doing space exploration by the Russian aerospace defence forces use a group of ten companions, those species and electronic intelligence, as well as providing radio communication. To get the most accurate information, the Russian troops made some changes in the number of orbits of satellites. According to Russian experts, Moscow uses the following types of satellites: cartographic satellite "bars-M" satellite radio repeaters "Harpoon", reconnaissance satellite "Lotus" satellite reconnaissance "Person" and the satellite "Resurs-P2".
March 1, 2016 for the purpose of monitoring the cease of hostilities in Syria, Russia has deployed to the airfield Hamim three modern complex with unmanned aerial drones and two radar stations.
The exact number and models of machinery used in operations in Syria, not officially reported. However, we can still calculate the approximate amount of military equipment of the Russian army in Syria.
Comments
comments