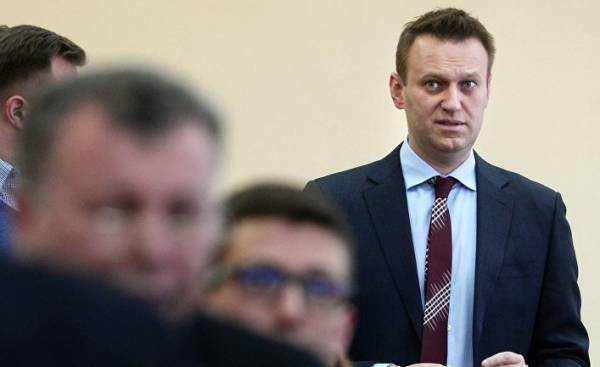 Moscow — Alexei Navalny last month held the first debate in the framework of his election campaign, and he tried very hard to look presidential. His rebellious forelock was invited, he was dressed in a dark suit with a red tie instead of the traditional shirt with short sleeves. Therefore, the opposition politicians attempted to win not only the young Russians, who followed his call to hold protest rallies and which strengthened his position as a man capable of asking a challenge to Putin in the presidential election.
However, the choice of Mr. Navalny partner for debate has caused resentment among many of his potential supporters: they became Igor Girkin, a marginal nationalist and a former officer, known under the pseudonym Shooters. Mr. Girkin is accused of atrocities committed in the period when he was involved in fueling a separatist rebellion in Eastern Ukraine. In addition, it is suspected that it is related to the incident with the Malaysian passenger airliner MH17.
After less than two minutes after the beginning of his first statement, Mr. Navalny said Mr. Girkin: if he becomes President as a result of the planned for March of next year elections, "it will allow everyone to participate in the elections, including you, the nationalists". The willingness of Mr. Navalny to Woo the extreme right and even to deal with a man that some members of the opposition as a war criminal, begins to raise questions about the true position of the anti-corruption blogger.
"I support him as the destroyer of the Putin regime and the existing system of government," says Igor Yakovenko, former sociologist, journalist and Duma Deputy, who collaborated with Mr. Navalny during the mass protests against Mr. Putin in Moscow in 2011 and 2012. In this lies the mystery of Mr. Navalny. Despite active persecution, he was able to create a surprisingly popular movement, focused on corruption in Putin's Russia — he was able to attract 130 thousand dedicated volunteers, tens of thousands of activists who participated in protests twice in the past four months, as well as to more than 1.7 million subscribers to its online video channel.
He makes a simple promise to fairly distribute amongst all the wealth currently monopolized by the oligarchy, and all this is presented on a preferred for the young generation a language that is not used in old-fashioned and boring style of government is dominated by former law enforcement officers. But when Mr. Navalny speaks as a potential candidate who could challenge the election — even if his chances remain low, he is subject to such verification, to which he is not always ready.
Some people in the West ask: is not it a sign of broad support for the emerging Russian politicians of a new type? However, many liberals who might be considered his natural allies, fear that changes his personality can turn it into just another Putin. Critical of the Kremlin, economists, politicians and commentators criticizing him for his lack of experience in the field of Economics. Some even say that the country least of all need such a leader who has a cult status among its supporters. "I don't see any problems in our country, which he could solve, — said Mr. Yakovenko. In my opinion, he is not better than Putin."
Lev Shlosberg, member of the regional Parliament from the Yabloko party, the oldest liberal party in the country, said that Russia has paid dearly for the emotional vote in support of its last two leaders. "For whom they voted? Yes, for the individual. Yes, for the symbol of change," he says. Mr. Schlossberg is referring to Boris Yeltsin, the first President of Russia after the collapse of the Soviet Union. "And when he began to undertake economic reform, it turned out that he not knows what he's doing," he adds, Recalling the galloping inflation, sovereign default and privatization in the style of robber barons, which had the oligarchy.
Mr. Putin, who manages the process of transferring wealth to another group of oligarchs and which led the country to confrontation with the West, as well as suffocating sanctions, also got their hands on the power without having the corresponding program. "We can discuss policy, but he did not explain its policy in respect of tomorrow in any of his election campaign", — stressed Mr. Schlossberg. Due to accusations of corruption in Prime Minister Dmitry Medvedev, which since its publication in March has been viewed 24 million times, Mr. Navalny is seen as the only politician who has any chance to challenge Mr. Putin.
Platform Mr. Navalny set forth in the pamphlet with half a dozen such catchy phrases as "Hospitals and roads rather than palaces for the officials," or "a Decent life for all, not wealth for the 0.1%". In addition, each phrase is provided with an explanation of which occupies half a page. Large strokes, Mr. Navalny said that eradication of corruption would release huge funds that can be used to decent education, healthcare and infrastructure. He promises to lay the foundations for the independence of the courts, to restore freedom of the media, as well as to allow competitive and fair elections.
His most specific proposals are also the most controversial one-time tax on the oligarchs, the minimum monthly wage in the amount of 25 thousand rubles ($415), and subsidized mortgage loans to more people able to buy their own homes and apartments. "It slogans, mottos, statements is not a program" — said Mr. Schlossberg.
Comments
comments