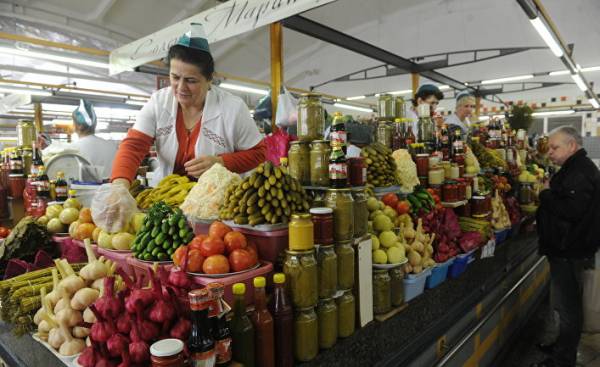 Even the Soviets with their planned economy was unable to drive agricultural markets of the Russian capital. Although in September 1931 in the Soviet Union, banned any form of private trade, a year later, the peasants regained the ability to legally sell its surplus produce — fruit and vegetables, meat and milk — farmers ' markets. In times of shortage economy, the prices in these markets was significantly higher than in state stores, but the quality of the product was better. After the collapse of the Soviet Union everywhere in Russia like mushrooms after the rain there were new markets, which sold everything from pots and pans to canned beer and fake sunglasses Dior. Many Soviet citizens had to learn to navigate in capitalism in which they suddenly appeared; people, without thinking, became merchants. But those times have passed. A new trend is street markets, and their creation was inspired by London, Berlin, Madrid.
Today you can buy Goodies from many former Soviet republics, as well as Parmesan, brie and Camembert Russian production. In response to EU sanctions imposed after the annexation of Crimea, the Kremlin banned the import of dairy and meat products from the EU and the United States; since then, local consumers have to be satisfied with Russian products-analogues.
Danilovsky market in the South-West of Moscow is one of the best in the capital. In 60-e years here, opened farm market. The building looks like a UFO. A few years ago it was reconstructed. Since space is not grandma with pumpkins, mushrooms and flowers, and stand with delicacies. Those who experience strong hunger, can, for example, to go to the "Dagestani shop." In the North Caucasus Republic is home to many nationalities and each of them — your recipe khinkal. This large pieces of meat, which is cooked in broth and served with beef and spicy sauce. It goes well with tea from the Caucasian herbs.
Great fun will be just a walk in the Mall: go and try dried fruit, nuts, pine nuts, pomegranate juice, berries and cheese. Everywhere suggest something to try. The alternative to the Russian Parmesan — traditional Caucasian cheese: salty Georgian cheese Suluguni, or soft and fresh, or solid, "braided braid". Dorogomilovsky market even more. There are many butchers cut the bones of lambs. Slides, ice — fish and seafood. Next to the spices from Central Asia and the Caucasus slide stacked motley Uzbek bowls. Each seller assures you that you smiled a great success and that he will give you a discount.
In search of Souvenirs from Moscow is to go to Izmailovsky market. Here is a great number of dolls, decorations and Soviet kitsch.
Or you can search in social networks information about pop-up markets young Russian designers, which take place regularly in summer on Sundays, for example, on the territory of the former confectionery factory "Red October".
Comments
comments