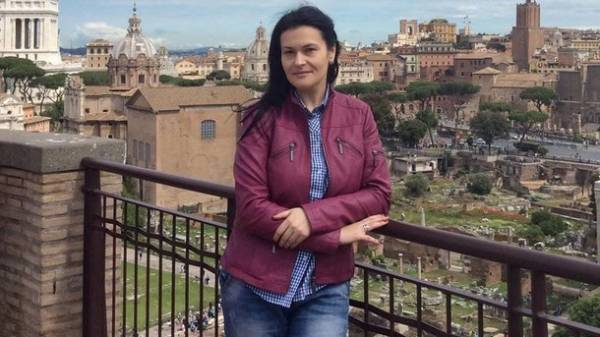 Known in journalistic circles, the editor of the "Facts" on ICTV, ex-employee of "inter" Inna Zhmud struggling with a rare form of cancer. That girl was faced with a problem, she admitted to herself, when their own could no longer cope with the illness.
To tears tearing post 33-year-old Inna wrote on his page in Facebook. "Doctors could not determine that I, writes frankly girl. – In the morning, once a stomach ache, but will not run from it, just go to the doctor. Then he began to get sick more often passed the tests. All in norm, only ROE in the blood increased (at a rate of 2-15 was 24). The doctor said that it is "smoldering inflammation", was sent for an ultrasound and chest x-rays. There, too, everything is OK. Well I decided to wait. Two months later, appeared the temperature and off we go".
Inna went to all the specialists, but nobody could determine what it is. "I finally find a neurologist who is sending me for a CT! And I get a piece of paper: mass lesion in the adrenal glands! Consultation of the endocrinologist and oncologist! I'll tell you honestly: I knew that something was wrong, but I even could not assume that it's cancer…And there was an endocrinologist, who looked at me like I'm a corpse, and with a terrible voice, "don't waste your time" was sent to the cancer Institute."
In the end, the analysis of the histology confirmed a dreadful diagnosis of adrenocortical cancer. This rare disease occurs in two cases per million. Now Inna is undergoing treatment in Germany, to which her colleagues, friends, and spectators, many concerned people are raising money and we believe that six courses of chemotherapy and the administration of specific medications can stop the disease. The price of the issue at the moment is 40 thousand euros, this amount is not enough, so she was able to survive. On calls for help, immediately responded to all community television of Ukraine. Your words of support already expressed by the presenters Elena frolyak, Anna Panova, Oleg Panuta, Anastasia Daugule and many others.
The girl continues your page in Facebook under the hashtag #Apatosaurus writes about all the details of treatment. There, on the page there are all the details, who want to help Inna to cope with this terrible disease.
Comments
comments