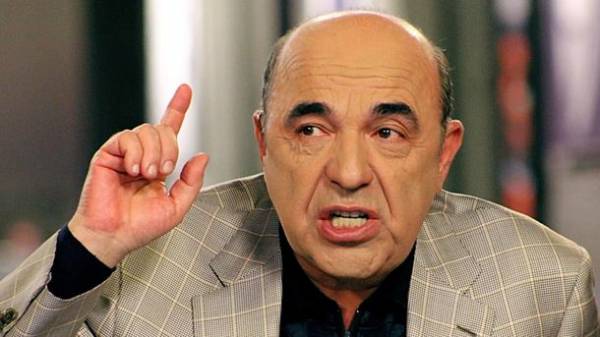 Member of Parliament, Chairman of the Subcommittee of the Verkhovna Rada on human rights and the leader of the political party "For life" Vadim Rabinovich believes that the procedure for the election of the Ombudsman, established in the new law on the constitutional court, in violation of democratic norms.
About the MP said in a live TV channel "112 Ukraine".
"There is no coalition in the Rada, it is a fiction… After the vote in Parliament on the law on the constitutional court, and I submitted a parliamentary inquiry on gross violations of the rules, any legal collapse. In the parliamentary rules of one order of election of ombudsmen, but the law is different, just the opposite. In all democratic countries, voting for Ombudsman is conducted secretly – is the norm of democracy. Moreover, as a rule, in democracies the position of obmudsman give the representative of the opposition, as the limiting lever. The UN representative appealed to the Parliament with a request not to politicize the situation with the election of Ombudsman. But we have the position of Ombudsman already promised. In the voting held norm of open voting, with the aim "to knopkodavit", – he said.
Vadim Rabinovich is afraid that the next Ombudsman will be dependent on the government.
"The procedure is already broken, they spit on the laws and norms of democracy, and that usually the opposition is entitled to control over the government, including on the part of ombudsmen! The same situation is when "Ombudsman from the government" will monitor the observance of human rights itself that power. What is democracy?", — says the MP.
Recall, 13 July, the Verkhovna Rada adopted the law "On the constitutional Court of Ukraine". The law provides for a change in the procedure for electing the Verkhovna Rada Commissioner for human rights. Now of the Ombudsman, the Parliament will appoint an open vote and not by secret ballot, by ballot.
Comments
comments