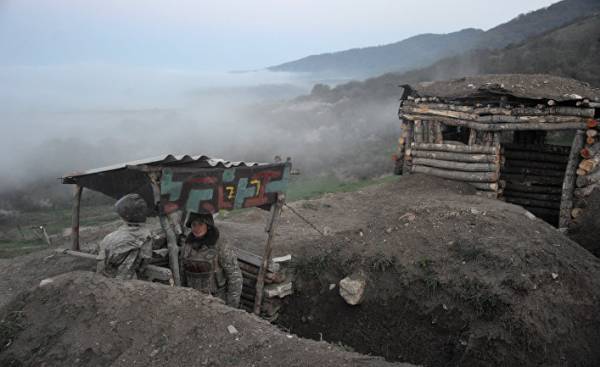 Azerbaijan-Armenian border village of Chinari was subjected to another dangerous shot from that side of the border. The villagers even had one hour to evacuate the children from the kindergarten.
Parallel to this, the Ministry of defence and the Ministry of foreign Affairs of Azerbaijan on the 26th of July issued a joint statement, claiming that the alleged during the whole day the Armenian armed forces subjected to fire the positions of Azerbaijani troops and peaceful settlements.
The evening of the same day the Armenian defense Ministry denied the accusations of Baku. "The Ministry of defence of the Republic of Armenia are warning the military-political leadership of Azerbaijan that in the event of any provocations of the Armenian side takes strict retaliatory actions, and urged to refrain from provocations that could lead to unpredictable consequences for the entire region", — reads the statement of the defense Ministry of Armenia.
Azerbaijan, in fact, resorted to his usual style of behavior, trying to change the status quo through military provocations on the eve of the anticipated meeting Nalbandian-Mammadyarov, which will probably be devoted to preparation of negotiations of presidents of Armenia and Azerbaijan, which will be held until the end of the year.
Hardly it comes to provoking large-scale military action, but Baku sends another signal to the international community that will resort to military action if negotiations do not bring the desired result.
On the other hand, Baku through propaganda creates a climate for a new escalation on the background of another crisis in international relations, when new force intensified Russian-American contradictions after the approval of a new package of sanctions against Russia the US House of representatives. Because of this, there is a new aggravation of the situation also in the East of Ukraine.
At the moment Azerbaijan has no external signals for triggering the war, on the other hand, Baku is aware that intermediaries are unable to reach consensus around international mechanisms to maintain the ceasefire.
In such a situation, Azerbaijan increases the temptation to change the status quo, and therefore, increases the likelihood of a resumption of hostilities.
Comments
comments