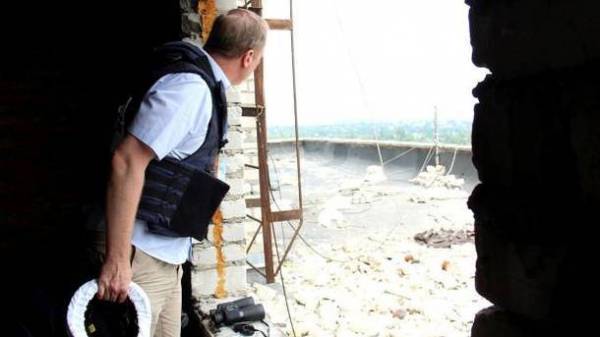 The US special envoy to Ukraine Kurt Volker shared his impressions from a recent trip to the Donbass, where he was able to see firsthand the consequences of the Russian aggression against Ukraine. He told about it in interview "date".
He noted a large number of civilian casualties due to shelling of militants and Russian mercenaries.
"There is an appalling humanitarian situation. The conflict has seriously affected people's lives. This year the number of victims has increased by 65% compared to last year. Only last week killed ten Ukrainian soldiers. The casualties were among the civilian population. I met with school teachers who now teach the children how to hide from the exploding shells. I visited the school, which has been under artillery fire. I was in the apartment houses, which are literally fired from tanks and side walls were destroyed, the apartment was blown up, all things were scattered. From the explosion on the far side of the house smashing Windows," said Walker.
Read also: In Russia, commented on the arrival of Walker in the Donbass
He also shared his impressions from visiting the Town and noted how she suffered from the fighting.
"In avdeevke as a result of attacks and interruptions of electricity supply for several days there was no water. People suffer on both sides of the dividing line. Every night we see more than 1.5 thousand violations of the cease-fire. The number of victims among the civilian population in Ukraine is indeed reached a terrible level. The population of the Town before the war was 34 thousand people. A third of the population left when the conflict began. But they took five thousand people who fled from areas with more intense fighting. I have no doubt that people in Donbas are suffering," – said the representative of the United States.
See also: the US knows who started the war in the Donbas: Volker confirmed
He explained that the ceasefire Ukraine needs to restore its territorial integrity.
"In other words, it is a very "hot" conflict, the price is awfully big. It is necessary to take urgent measures to end the conflict. Clearly, what should be the basis. You need to restore the territorial integrity of Ukraine and guarantee the security of its citizens – regardless of their ethnicity and religion," added the us Ambassador.
Recall, the U.S. special representative in Ukraine Kurt Volker on July 23 visited the Donbass, together with the delegation of the US state Department.
Comments
comments