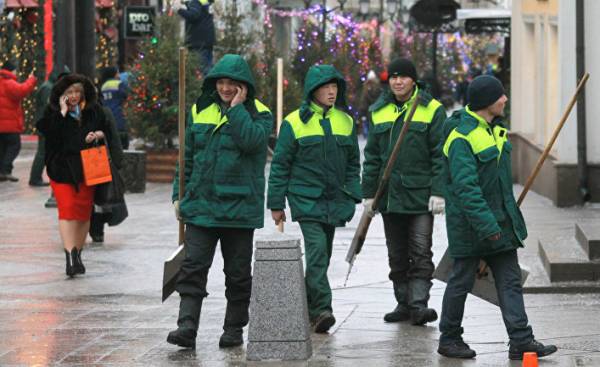 Today's migrants — part of Russian society, and the quality of this piece largely depends on the efforts of the Russian authorities. About what you need to do for the integration of migrants, why they should not invest in higher education for their children and that became the reason of growth of female migration from the countries of Central Asia, in an interview to "Fergana" says a leading researcher of the laboratory of Analysis and forecasting of migration, Institute of national economic forecasting of RAS, Director of the Center for migration studies Dmitry Poletaev.
Fergananews Over the last 5-7 years, Russia has increased the number of labor migrants from Central Asia and today they make up almost half of all foreigners in Russia. This is because the standard of living in the countries of the region leaves much to be desired?
Dmitry Poletayev: Since 1991, the standard of living in the countries of Central Asia increased. The fact that people go to Russia, suggests that in our country for them to have jobs. Annually, the working-age population of Russia is declining by one million people. A push factor is that in the countries of origin of migrants, there are not enough jobs for the population.
— How do you feel about the opinion that every Russian is ready to take the place of the migrant-the janitor?
In 2013, when the country experienced the peak of xenophobia, and stated that, say, a. people cannot get a job, we conducted a study: they called housing and asked if it is possible to apply for the position of janitor. Opportunities were many.
In General, this problem does not apply to migrants. The claims must corrupt officials in the housing sector who hire janitors from foreigners and pay them part of their salaries, leaving himself another. I am glad that now these schemes are fading. In addition, the caretaker is a temporary position for the Russians, who hoped for career growth. But for migrants it can be a job for a long time.
You have to understand that if in Russia there are no jobs, migrants are not coming here. For example, because of the crisis and wage cuts, the Russians were to agree to work on those positions that did not agree earlier, so in 2015 the number of arrivals of migrants to Russia fell by a million. A similar situation was observed during the 2008 crisis.
The migrants have not come to Russia just like that. They are looking for information on the Internet. In IMC (integrated migration centre — approx. ed.) to Sakharov, there are labor exchange, where a person is offered a job after obtaining a patent. And it is very popular.
Note that after the accession of Kyrgyzstan to the EEU of its citizens are more willing to take the job, because now they don't need patents. When we conducted the study in 2016, in Yekaterinburg, we were told that the Vietnamese garment factory, which are located in Russia, ceased to recruit flip flops: now they go to Kyrgyzstan and the Kyrgyz recruit. Due to the fact that migrants from Kyrgyzstan do not pay for the patent, they can even have a little dump in employment.
It is also interesting that the Kyrgyz people rarely agree on all the hard work. They have differentiated the scope of employment, they became more in services and less in construction, because they know the Russian language and they do not need to issue the patent.
— Kyrgyzstan has not lost the position of a country whose citizens have a good command of the Russian language?
— I believe that teaching migrants the Russian language — in particular, the concern of Russia, which needs workers. In other countries a lot of money to invest in the training of migrants. For example, in order to get a job in South Korea, the migrants are selected, but Korea finally receives high quality workforce. I think that Russia, too, will come to this.
Long-term demographic projections for Uzbekistan and Kyrgyzstan is not very optimistic: after some time, the flow of migrants will decrease. Therefore, Russian companies who want to get quality work force will be engaged in an organized set. Basically, it will do large businesses, such as those that produce cars, any equipment. The same way as in the 70-80-ies of preparing the Vietnamese to work on the ZIL. They released textbooks on the Russian language, in the dormitories housed separately from other workers.
— This practice can not be transferred to migrants from Central Asia?
— There is a request, but someone has to pay for it. Earlier, under the planned system, the state paid. Now we have a market economy, and the authorities are not ready to do it. Employers face a shortage of skilled labour, so sooner or later pay for it are they.
Migrants also have to think about your future. We conducted a study and found that not many migrant children studying at secondary specialized educational institutions (colleges). Colleges are competing with universities that are not yet ready to work with foreign students. We found that in Russian colleges are about 25 thousand foreigners, and we need tens and hundreds of thousands of workers. In factories there is a renewal of manufacturing and it is hard to recruit staff who can work on new hardware. The workers have left the Russian factories in other areas, and the youth is not in secondary vocational schools because it is not prestigious.
Immigrants may have no understanding of what education should give feedback. There is even a term "General higher education" is when you pay tuition at the University, receive no education, and useful skills, and then go work as an ordinary clerk and not worth the investment. Migrants earn money through hard work. We learned that they spend money and one of the main points is to pay for higher education children. 60 percent of the migrants interviewed said that receiving a higher level of education in Russia will help them in future to get a higher salary, it is easier to get a job. In reality, their children graduate from universities at home and come to Russia to work not on a speciality. Not all understand that higher education received at home, is unlikely to be useful here.
It's a stereotype of the Soviet period: "Our children should get higher education". Now working and sanitary ware in Russia sometimes earn no less than the scientific staff, and the demand for their work above. Studies show high demand on the Russian labor market on workers of average skill. It turned out that even in a crisis there is a shortage of these professions. It is important to understand migrants and refocus. However, we must understand that they should not just do a weld and lay rebar, and to learn to work with new materials and appliances.
Another problem is that those who want to get a Russian diploma, are not in technical or Polytechnical College and pedagogic, because there are lower price fees. Again because of the misunderstanding that this diploma is not in high demand. In school are more likely to take teachers from Ukraine, than graduated from teacher's College Kirghiz or Uzbek. Russia has enough of its lawyers and managers. This, for example, the Russians graduate from University, majoring in "banking" and go to seek work in Germany, where their Bank clerks enough.

As one of the trends of migration, you mentioned the fact that she became more rural. How did the change to urban migration on the rural?
— Now in Russia there is the rural flow from Central Asia because the city ended. The Kyrgyz intelligentsia began to leave Kyrgyzstan with the first flow of migration. The country has moved and left not only the Russian-speaking population, but also the Kyrgyz elite, because it did not meet Wednesday. It happened when the villagers began to move to Bishkek.
Formed in the USSR, the Central Asian elites did not always followed the principle that if you work somewhere, that relative is also necessary to arrange. Of course, this scheme was maintained, but not on the same scale as arrived in the post-Soviet era migrants. The national elites are not meant to compete, used to other relations, and therefore partly left Asia, went to Russia or to the West. Russia similar processes were experienced in the 1990s, when banks were opened and there were recruited relatives. With the staff of the banks could not effectively work, and if they wanted to survive, began the recruitment of qualified employees. I believe that Kyrgyzstan, Tajikistan and Uzbekistan also feel that nepotism and human tribalism is detrimental to their countries, which are forced to leave good professionals.
— How to work with the rural population, which now came to Russia to avoid conflicts on the basis of the difference between urban and rural cultures?
— It is necessary to access bridging programs, to promote Russian language abroad. This can be done, for example, Fund "Russian world", it is possible to use the Russian cultural centers. The demand for this is huge. In Asia people love to go on these courses, because they understand that Russia has time to learn Russian they will not.
Migrants have to integrate, to tell about the country, where they come to work. Explain that there are other orders that the girl in a short skirt — not a prostitute. What if do not behave as expected, put yourself in the position of outcast. If you don't make the rules of life in Russia, do not be surprised that you will not take a job or become ill treat you. Migrants must understand that they create their image. As Russian and abroad. Their image is changing, but the stereotypes remain. Against migrants is also impossible to prevent the strengthening of stereotypes. If Russia wants cooperation with Central Asia, it is important to start bridging programs to help those who want to come to work or study, or even thinking about moving.
— And you do not have to prepare people for life in Russia, the Central Asian countries if a significant share of their GDP are remittances?
— It is necessary for Russia. Kyrgyzstan, for example, it is also necessary, but if she doesn't want to do it, then get it, no one can and should not. If Kyrgyzstan Russian school closes, then Russia needs to open Russian language courses or work at the intergovernmental level to find some more exits. Remember the monologue from the play Galileo Brecht "Life of Galileo": "Even a wool merchant has to think not only about how to cheaper to buy and more expensive to sell, but also that it could be trade of wool."
The countries of Central Asia should be aware of. Millions of people send money home and business in Kyrgyzstan are not developed. Why is this happening? Because of corruption or lack of developed infrastructure? Have to deal with this.
If in Kyrgyzstan are interested in that its citizens are not worked on very difficult work to they had a prospect of career growth and the prospect of returning home, followed by employment, then you need to work with migrants and otherwise help its citizens. And we have Russia nods to Kyrgyzstan, and Vice versa…
Russia also needs to invest in labor and other types of migration. If you invest, then it will be time to obtain the benefits of migration. And yet Russia manages to work with immigrants not from China and India. Migrants from countries of the former Soviet Union is another level of work when Russian language is still not completely lost and we can appeal to common historical roots.
For example, in the complex of adaptation measures could include construction of mosques, an additional payment to teachers of the Russian language in Russian schools for the education of migrant children, the opening of courses of Russian language in the countries of Central Asia and a special Russian-language TV and radio channels that are still located in the homeland of migrants will tell you how to find an apartment, how to register and obtain a patent.
— The mosque should be built, to "the preachers" did not go to their homes and recruited migrants in a terrorist organization?
— Yes, but construction and subsequent operation of mosques should be under control. Always had the cooperation of the state with the Church. This savagery is to mistreat Muslims now, when even in the Soviet Empire there was a special insignia with the cross and Crescent. It is important to work with this and not close our eyes and deny, otherwise there is a dangerous shadow space.
Another migration trend is associated with the feminization of migration. How it happened?
— Beginning to work in Russia went only to men. What then came here women is due to various factors. First, a differentiation of spheres of employment. Once expanded, the demand in the service sector, earn went women. They can't carry bricks along with men, but can serve in a restaurant or to work in the Laundry.
Secondly, it is connected with the institution of marriage. When the man is in migration, the bride's parents find him, he arrives, gets married and leaves again, while his wife continues to live with her mother in law. He had never seen this girl doesn't want to live with her, he sees that in Russia everything is different, it breaks the relationship with her old family and starts a new one. She is left alone to provide for themselves and may the unborn child, is also forced to go on migration. So migration has shaped the flow of single mothers and women who can't get married due to the fact that the shrinking marriage market, men went to work. Some girls along with the desire to make money and have a goal to conclude the migration of the marriage, because now the choice of suitors more in Russia. Especially in front of them there are cases of dysfunctional marriages in collusion parents. Time is changing and girls like and guys want to see my other half. It is possible to recognize quite a common phenomenon for Kyrgyzstan.
As for Tajikistan, where a woman at a young age often does not come to the labour market, as sitting at home with the children. In labour migration driving women whose children have grown, or the ones who broke up the family. Some women go to Russia with their husbands to preserve the family. This migration of married women "married". In Tajikistan more traditional society, and the woman rarely goes to the migration one. But that could be from Tajikistan will go to work in Russia young women who wants to find a groom. The Russian market will take all and provide jobs.
— Show that your research is: do the migrants to stay in Russia?
Is as with students who come to study in big cities and think it for a while. It's not like other conditions of life, people are not, and after a couple years they'd want to stay. And migrants — a continuing and lasting the situation initially the short life of the project. Migrate to buy a house, then you have to earn for wedding children and this short-term project year after year extended. No one builds long-term plans, do not think that in Russia it is necessary to take care of permanent housing and about education. Many people think that he came to Russia two or three years, that at home the situation will change and they will be able to open a business and live well. But the situation does not change, and migration becomes a way of life. And is it bad that the migrants do not consider the long-term prospects. Post-Soviet man in General is not typical to build a life as a project. And when migrant 5-7 years lived in Russia, had children, already wants a different future for them than he had previously imagined and people are not always prepared to be ready.
As for Russian citizenship, about 60 percent of respondents in 2016, citizens of Kyrgyzstan and Tajikistan told us that you want it to. When asked: "do You want to become citizens of Russia or You prefer to live and work?", — 60 percent said they prefer to work. That is, they do not regard the passport as a change of life, only he replaces the patent and easier employment.
The human desire to not RWP or residence permit, namely Russian passport, says that, first, we don't have a setup that residency is a sufficient alternative to a passport established by the law of the Russian Federation rejection of the existing citizenship. Secondly, that Russia has too high a threshold for entry into the legal labor employment.
— That is, passport does not make migrants full citizens of Russia?
Legally they are citizens, but not integrated. The problems begin at the level of the second generation, the children of these people. As it was in France. There are a lot of non-adapted French-children of migrants. Their parents know why they want to become citizens. However, the children of these migrants do not understand why they have to be French. They didn't see what was in the homeland of their parents and why they left. They are located at the clash of cultures, poorly integrated. The conflicts with the local population. And migrants from Central Asia, received a Russian passport, not actively help their children to integrate into the new Russian society, and that society often considers them strangers. It is a problem for these citizens, and for society. Russian schools are in such a situation, the most effective mechanism of adaptation and integration.
Now and in grades 10-11 children migrants from Central Asia, which was brought to Russia, although previously, in high school they were few. Soon they will be released in the new to them space outside of school and will be looking for work, will become the new Russians. If you do not work with this generation of citizens, we risk to obtain a layer poorly adapted to life in Russia, young people tend to look for a job mainly in the sphere of shadow economy.
The number of migrant children has increased in Russia by strengthening women's and family labour migration. In addition, migrants began to start families and have children here, and they will go to Russian school. These children grew up here, and arrived in Kyrgyzstan, they will not own there, but here if they were not adapted, then the problems begin. Then teachers of the Russian language for migrants will find other issues to solve. And it is necessary that integration work started now. For example, it is important to solve the problem with the residence status of migrant children in Russia. Those who graduated from high school, it would be possible in a simplified manner to offer to get a residence permit.
It is time to understand that migrants are already part of the Russian society. Those foreigners who have worked here for 5-7 years, told us in an interview that already can't be at home. They are accustomed to the urban environment, to a different rhythm and lifestyle.
With regard to rural migrants who are coming to work in Russia, then eventually they will change. After all, who are the people who shout that "Moscow not rubber"? It is usually internal migrants who moved to the Russian city from rural areas or small towns. In the Soviet Union it was "limitchik" who worked in factories and lived in certain areas. Their children grew up, graduated from high school, went away to different parts of the city and become full citizens. The same will happen with today's foreign migrants. Then, when in Russia will be arriving EN masse the people of China and India, the new Russians of the number of Kyrgyz will speak, saying, "come in large numbers here".
I repeat that integration is important. Earlier, in Soviet times, wrote the book about the development of the cities of the villagers, to make a film about how people from the village come to the city, showed positive examples of such migration. This process is necessary to seriously invest, to manage the situation, to Fund adaptation programs, then the integration will be effective.
Comments
comments