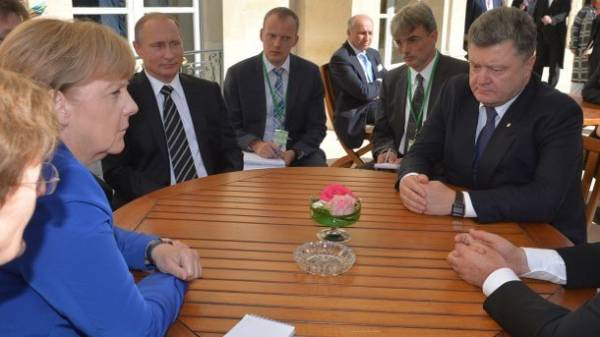 Today held telephone talks of leaders of the countries "Norman Quartet", which discussed the settlement of the situation in the Donbas.
In negotiations took part the President of France Emmanuel macron, the President of Ukraine Petro Poroshenko, Russian President Vladimir Putin and German Chancellor Angela Merkel.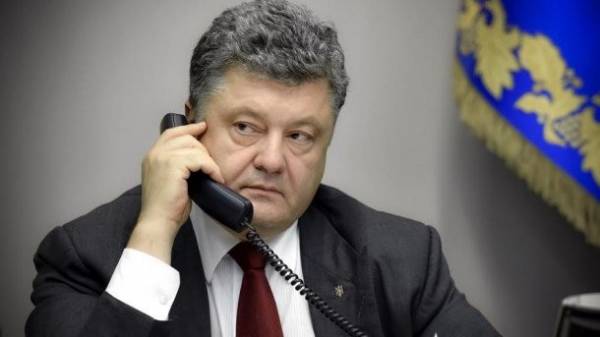 Photo: president.gov.ua
First, the negotiators have heard the report of the Chairman of the OSCE SMM in Ukraine Ertugrul Apakan and his Deputy Alexander hug, before discussing the situation in Ukraine.
So, Poroshenko in connection with the recent events at the front said that the last days of July are some of the most bloody in 2017, and urged Russia to immediately stop aggressive actions and the supply of weapons to the occupied territories.
See also: attack of the militants near Krasnogorovka: were the details of the heroic death of fighters
Also the Ukrainian head of state insisted that the Russian side blocks the release of Ukrainian prisoners of war and insisted on their immediate release.
The interlocutors agreed that in the Donbass need to install a full cessation of hostilities and to withdraw heavy weapons under the supervision of the OSCE. The President of Ukraine also pointed out the importance of the introduction in the Donbass UN peacekeeping mission.
In turn, the rules and Merkel has criticized the statement of the leader of the MT .N. "DNR" Alexander Zakharchenko regarding the establishment of "the Ukraine".
The French President and the German Chancellor stressed the inadmissibility of any statements that undermine the territorial integrity of Ukraine, in particular the creation of so-called "little.
See also: the Kremlin called Zakharchenko about "the Ukraine" his personal initiative
At the same time, the Kremlin says Putin during a telephone conversation with his colleagues in detail outlined the "Russian approach" all of the key provisions of the Minsk agreements.
As noted, the French leader, the negotiating parties have agreed to work together to resolve the situation in the Donbas.
We confirmed the dynamics of joint work in Berlin, Paris, Moscow and Kiev on the Ukrainian crisis
See also: "Formula Rules": Poroshenko said about the new plan for de-occupation of Donbass
During a two-hour conversation, an agreement was reached to coordinate the final steps for security and to continue work on roadmap of implementation of the Minsk agreements. To this end, in the second half of August, a meeting of foreign policy advisers to heads of state "channel format".
Comments
comments