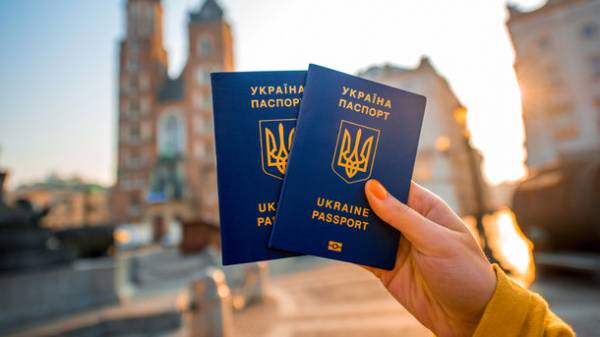 The Ministry of foreign Affairs of Ukraine reminded that the visa-free regime for Ukrainians does not provide a work permit in the countries of the European Union, as the issue is regulated by national legislation of individual countries.
"Bezviz" does not grant the right to work for citizens of Ukraine in the European Union and this is the norm," – said the representative of the Department of consular service of the Ministry of foreign Affairs of Ukraine Vasily Kirilich in the framework of the round table on the theme: "Ukrainians Take Europe by storm? The results of a visa-free regime with the EU after the first month of action" on Thursday in Kiev.
However, he noted that "Ukrainians are creative" because without breaking the rules of visa-free visit of the European Union, not more than 90 days stay within 180 calendar days, they also used some adjustments to the national legislation of several EU countries.
According to him, from June 15, "Hungarian Bulletin" published the rate at which nationals of third countries, in particular Ukraine and Serbia, have the right to work in Hungary without any special permit.
"So, citizen of Ukraine, who moved to the country, to Hungary or the other, it is not governed by law "bezveze", he is guided right to stay, and while looking for these easy opportunities to work within this period, which is defined," explained Kirilich.
As reported, on 22 June, the Sejm of Poland adopted the new law on the promotion of employment and institutions of labour market, which makes changes to the law on temporary employment of foreigners.
According to the changes in the law, in addition to work permits, which are issued by the Governor for a period of up to three years, introduced a permit for seasonal work, which will give the mayor (for the period of eight months within a calendar year).
Read also: Visa-free boom: boom with biometric passports subsides
Also the legislative changes is provided, in particular, the introduction of the charge (30 PLN) registration statements by the employer about the intention to employ a foreigner.
The proposed solutions apply to foreigners who perform long-term work in Poland. We are talking about citizens of Armenia, Belarus, Georgia, Moldova, Ukraine and Russia, who will be able to use a simplified procedure to access the labour market.
As reported, according to a survey conducted by the portal rabota.ua, 41% of Ukrainians participants are ready to permanently leave the country for a new job abroad, 38% – would like to have foreign work experience and return. 16% are sure that can be realized as professionals in their home country.
The ability bezveza to explore with a potential employer (e.g. in the interview) ready to use 41% of survey participants. Another 31% admitted that they have been actively looking for jobs abroad, and 28% reported not planning to work abroad and prior to the introduction bizwise.
Comments
comments