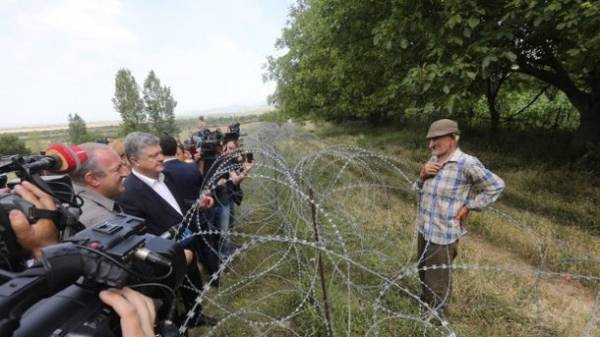 President of Ukraine Petro Poroshenko said that Russia is a common aggressor, against which countries need to unite. He said this during a visit to the demarcation line of the occupied Tskhinvali region, the press service of the head of state.
The President believes that the unity of Ukraine and Georgia to compel the aggressor to liberate the occupied territories.
"We have a common aggressor in Ukraine and in Georgia is the Russian Federation. And as I said – very similar to the situation in the occupied territories: the mess, the despair, humanitarian disaster. And what you need to do in order to liberate these territories from the occupation? We emphasize that this is a political and diplomatic way. And for this we need the unity of the world and solidarity with Georgia, and Ukraine. I believe that today the world is United, Russia is isolated. Russia should take steps that will facilitate the de-occupation of Ukrainian and Georgian territories", – said Poroshenko.
See also: "Russia is our enemy, Russia is killing": in Georgia protest against Russian occupation
The President has promised to fight to eliminate the barbed wire.
"One of the main goals to be here (on the demarcation line. – Ed.) – to demonstrate to these people that they are not alone. Remembers them in the whole world. And we will fight to dismantle the barbed wire," – said the head of state.
As reported today, while on the demarcation line with South Abkhazia Poroshenko showed the base FSB of the Russian Federation to the occupied Georgian territory.
Comments
comments