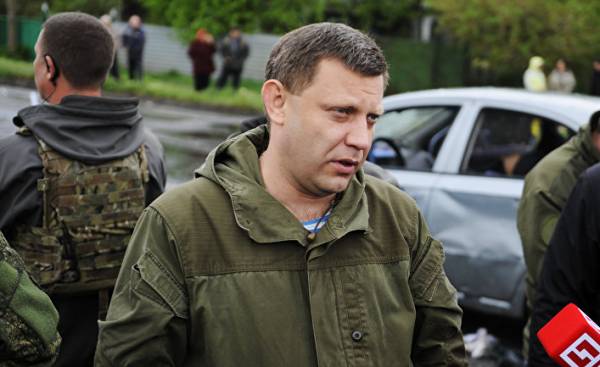 The statement of the leader of fighters "DNR" Alexander Zakharchenko about the making of "the Ukraine" has immediately caused the reaction of users in social networks, which did not miss the chance to laugh at the words of action. Users are immediately interested in the question what to do with the "passport DNR" and that will be a "new Russia".
— [email protected] (@rjpthjuljytwrbq) 18 Jul 2017
— ///jerebtsov (@igorzhe) 18 Jul 2017

Also, the network already joking about creating "NanoEurope" with its capital in Makeyevka.
The capital of NanoEurope will be Makiivka, and Paris will be historical and cultural centre of the capital city status — a source in DND.
— The fifth Column (@5th_kolonna) 18 Jul 2017
​
Blogger Anton Honza generally put forward the "theory" that the leaders of the self-proclaimed "DNR" and "LNR" have to get married for the sake of "legitimizing Association": "in order to legitimize the Union DND and LNR, Zakharchenko and Carpentry will conclude a dynastic marriage."
Only passport received DNR.Plates Dnrovskie hung. all docks extended.Now everything is to change again…
— Hrushavy Inkerman (@fuckinginkerman) 18 Jul 2017
​
Wait, what about all the EU citizens who wanted to obtain a passport and the DNI? What to say to them?
— > Mira (@xy_ukr) 18 Jul 2017
​
The head of DPR Zakharchenko has announced the creation of the world of the galactic Federation with its capital in Donetsk: pic.twitter.com/cNXYl8MMen
— Foreign Rossi (@Fake_MIDRF) 18 Jul 2017
​
the head of the DND Alexander Zakharchenko said that after the dissolution of Ukraine, he will deal with the dismantling of the European Union
if the vodka will be delivered
— Oleg Panfilov (@OlegPanfilov7) 18 Jul 2017
​
Little Russia go the way of Luxembourg and, therefore, it will be several official languages, namely, Buryat, Chechen, and Fenya.
— Minang (@crimeapanda) 18 Jul 2017
​
I understand Zakharchenko yesterday saw the first series of Game of Thrones and decided that he was Cersei
— Minang (@crimeapanda) 18 Jul 2017
​
As UNIAN reported earlier, the leader of "DNR" Alexander Zakharchenko said about the establishment of a new "state", "little", which, he said, should become "the successor to the Ukraine." "We agree that the new state will be called little Russia", — told reporters the leader of "DNR". According to him, the capital of the "little" will be Donetsk and Kiev militants took the role of "historical and cultural center of the capital city status". Zakharchenko also added that it is necessary to enter in the country state of emergency for three years. President Petro Poroshenko responded to the news of the creation of the so-called "little" in the occupied territories of Donbass. "Zakharchenko is not a political figure, a doll, a transmission of the message of the Kremlin", — said the President.
Comments
comments