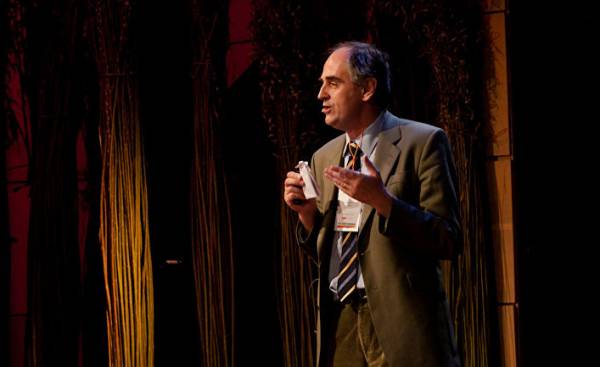 Civil.ge: After the meeting, trump and Putin, and six months after the inauguration of the new President of the United States, for many observers, the administration's policies trump against Russia again remains uncertain. How do you think that the United States in terms of the presidency, trump will actively oppose Moscow's policy as regards Russia's neighbors, and in the middle East?
Edward Lucas: I'm less pessimistic about a focused "a great deal" than was originally. I think the characteristic feature of the property is trump's paralysis, incoherence, improvisation. I do not expect the development of very bad events because I do not believe in the administration of the tramp were the people who let this happen. But I am very concerned about one thing, what if there is a crisis, he (trump) can't handle him. And second, there is a lack of leadership of America that creates a vacuum and in that vacuum other people take place. We see that takes the place of China in East Asia and Germany in Europe, which is good. But we are accustomed to a more consistent US leadership and we have none of this.
– Russia throws a significant number of its Armed forces to a new, permanent bases near the border with Ukraine. What do you think is the purpose of these efforts?
— It is obvious that the goal is intimidation of Ukraine. We believe that Russia always wishes to test the hardness of the West. We see it on the demarcation line, the so-called border between South Ossetia and the rest of Georgia. We see this in Ukraine, we see it in the Baltic countries. The Russian experienced the hardness of the West to see what they can get away with, as well as to create new precedents and create a new situation. Perhaps Russia is planning a dramatic military escalation in Ukraine, or anywhere else. The symptoms of anxiety, but maybe it's just intimidation.
– Currently in Georgia, a considerable increase in xenophobic groups, supported by Russia, which is accompanied by a propaganda effort, and it is similar to Russia's recent actions in the West. Why do you think Putin chose Moscow specifically, this ideological direction for their own strategic purposes?
— This is a great question and the answer is: because it works. We everywhere see that the Kremlin is trying to gain favor with the civilian community groups of all types are martial arts clubs, groups of bikers or paintball players. A number of actions that are attracted to the often very well-educated, disengaged a little from the young people, and this is only one side. We also see anti-Western messages that are used in all countries. The Kremlin's actions are very opportunistic. Thus, if this will work, they will do it, and if not, then try to do something different. Anti-Western, xenophobic, anti-Muslim prejudice directed against migrants, the message is spread among all social groups in Europe, and, of course, in America.
– Do you think that the Western States and the EU to adequately respond to misinformation and propaganda from Russia?
— I think the situation is changing for the better. We now have the majority of member States who believe that there is something wrong. In countries such as Germany, Denmark, Sweden, Finland, who 10 years ago didn't really believe in such a thing as information war, or that Russia successfully uses it against those countries that have already undertaken serious efforts in this direction — with the help of the security services and intelligence, as well as with the participation of journalists, academics and civil society. Now people see that there is a problem.
Adequately it? Yet. I would say that you need more. I think there are still countries — Spain, Portugal, Italy, Greece and Cyprus, which absolutely do not see this problem, although they are in the minority in the EU. With regard to the European structures, financing external action Service European enough. I think in the service manual there is a lack of enthusiasm, and that it did not focus enough on this issue, as it should be. I believe that the US should provide a kind of pressure on the European institutions to be more serious about this issue.
– Does it make you that Russia can successfully produce destabilization in the Western Balkans, like Bosnia, will be followed by serious consequences for the EU and the West?
Yes. We were smug in relation to the Western Balkans and saw a very serious Russian intervention in the Serbian Republic in Bosnia, in Macedonia, as well as the attempted coup in Montenegro, a very important action in Serbia, as well as in the energy sector in Croatia and in other countries. Thus, there is a lot of things and we don't react. And it's one of the problems of the lack of leadership of America. This is fundamentally a European problem and the Europeans can't manage to cope well; the Americans could always take the initiative in the hands I remember Joe Biden, who arrived in Bosnia only for one meeting a few years ago, as it believed that the intervention of the Vice-President would change the situation. Now we do not have enough that is good Russian. I don't know how they use this opportunity, but at the moment they are definitely using it.
– What can you say about the protest movement, which intensified at the present time in Russia? Do you have great expectations in this regard, or in your opinion, this is not a serious challenge for the regime at this stage?
— I think any forecast as to the policy of Russia is incorrect. And my prediction could be more erroneous. So I will refrain from any allegations. I think the middle class in Moscow knows that the regime is busy stealing and all kinds of talk about patriotism nonsense. They greatly demoralized, frustrated and disengaged; they Have no real leaders. Thus, what we today call the Russian opposition is not really opposition, as this would imply confrontation mode. These are just a few brave people, a few opportunistic people, a few extremists and people who sometimes come to action in their support.
So, if you want to see a challenge to the regime, it must come from outside, from places outside of Moscow and outside of the middle class. So, I think that mainly, we see truckers who are very angry because of corruption and poor infrastructure, which is a characteristic feature of this regime; Perhaps they will take some action that will work, or some regional leaders could take advantage of the dissatisfaction which many Russians feel toward the Kremlin. In this case, it will be interesting and may positively, or may not be; However, after 30 years of surveillance of Russia, I'm not sure in their forecasts.
Comments
comments