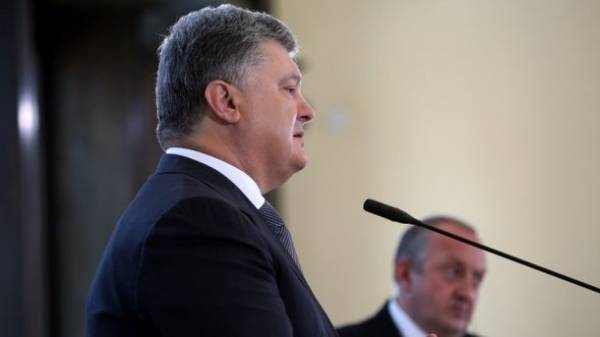 The main argument of Moscow in the negotiations on the Donbass – the possible recognition of so-called "DNR" and "LNR" on the Abkhazian scenario. This was stated by President of Ukraine Petro Poroshenko at a press conference in Georgia, the press service of the head of state.
According to him, Russia can play in Ukraine Abkhazian scenario.
"Three years, the whole world does not punish, but motivates Russia to sit at the negotiating table. Russia is trying to blackmail threat by recognizing the independence of the so-called "Donetsk and Lugansk republics" on the Abkhazian scenario. But is it really the happy people of the occupied Abkhazia? In my opinion, there is a humanitarian catastrophe. The same situation is in Ukraine. We have a humanitarian crisis in the occupied territories, the high level of unemployment, the disastrous situation in health and education," – said the head of state.
See also: Nevzorov: Crimea and Donbas, Ukraine will receive back
Petro Poroshenko is convinced that the only way out is the implementation of the Minsk agreements, the withdrawal of Russian troops and artillery.
Recall that the independence of Abkhazia proclaimed its authorities in the 1990-ies, recognized by four States members of the United Nations — Russia, Venezuela, Nicaragua and Nauru. Tbilisi, in turn, considers Abkhazia part of Georgian territory.
Also Poroshenko in Georgia today claimed that Russian "Novorossia" project has not been implemented in Ukraine.
Comments
comments