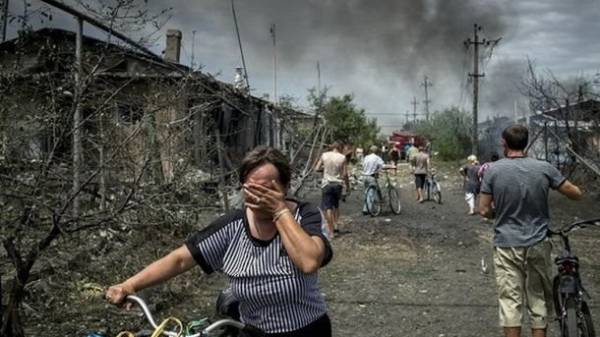 The majority of Ukrainians considers that the settlement of the armed conflict in the Donbass should agree to a compromise with Russia. This is evidenced by the results of a sociological survey conducted by Fund "Democratic initiatives" to them. I. Kucheriva and sociological service of the Razumkov Center.
For the world on Donbass it is necessary to accept compromises, but not all, said 52% of respondents. According to previously conducted polls in may 2016, this opinion is shared by 47% of Ukrainians, in October 2015 – 54%.
At the same time, peace at any price and any trade-offs agree 18% of Ukrainians (in may 2016 agreed with this 23%, in October 2015 – 21%). The same number of respondents (18%) expressed the view that peace in Donbas can be achieved only from a position of strength – when one of the parties would win (in 2016, thought so 18%, in 2015 – 14%). Undecided 12% of respondents.
In the regional context for peace at any price agree more Ukrainians in the South and East (22% and 25%) than in the West and centre (10% and 17%) of the country.
However, in Western Ukraine, more of the respondents believe that peace in the Donbass can be installed only from a position of strength (22%). This view is shared by 17% of the population of Central Ukraine, 15% South, 16% East.
See also: "What do the residents of Donbass about the role of world leaders in conflict resolution"
According to the study, the decision of the national security Council, the blockade of trade with the so-called "DNR" and so-called "LC" is supported by 47% of respondents do not support – 37%.
The greatest level of support for this decision in the West (up to 66% of respondents, against 16%), and lowest in the South (for, 30% against 49%). In the East of Ukraine the decision of the national security Council, the blockade supports 38% of Ukrainians do not support – 49%. In Central Ukraine, 47% of citizens expressed support for this decision do not support its 38%.
According to the survey, more than half of Ukrainians (55%) supported the proposal to legally recognize the uncontrolled territories of Donetsk and Luhansk regions occupied, while 22% do not support this idea.
For the recognition ORDO stands occupied 64% of the residents of Western Ukraine, 58% – in the Central. In the South this proposal supports 45% of Ukrainians, in the East – 49%.
The study was conducted June 9-13. 2018 surveyed respondents over 18 years in all regions, with the exception of the Crimea and occupied territories of Donetsk and Lugansk regions. Theoretical sampling error does not exceed 2.3%.
We will remind, according to the survey, 56% of Ukrainians are ready to protest in case of inaction of the authorities failure to fulfil their promises.
Comments
comments