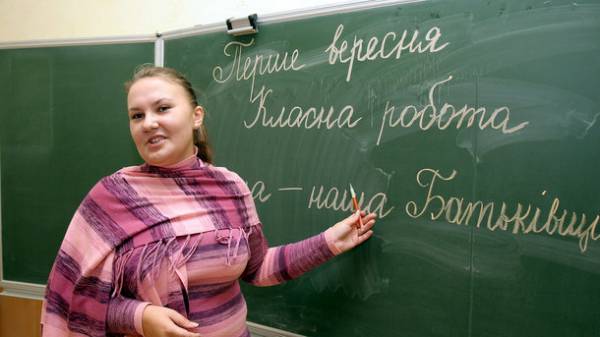 The teachers of the schools last raised wages in January of this year. Teachers of kindergartens and vocational schools will receive an allowance in September. In the course of education reform in teachers ' salaries should increase to 10 thousand hryvnia. The website "Today" figured out who the teachers and when you get a premium.
That will change in September
In January this year, the Ministry of education issued a decree on increase of salaries of teachers at two digits. Since January, the salaries of school teachers who receive a salary from the state budget. So salary of a teacher with no category in December 2016 was 2149-2309 hryvnia. With the New year 2912-3152 UAH plus additional payment to achieve the minimum wage. From September 1, teachers of kindergartens and vocational schools will also add 763-843 hryvnia salary.
Following the wage increase will be in the fall. This was stated by Prime Minister Vladimir Groisman during a speech at the festival last call at one of the schools of Brovary.
"In 2017, we decided that wages must rise for Ukrainian teachers, and we increased it by almost 50%. I want to assure all teachers of Ukraine, and next year you will get the support of the Ukrainian government and the budget. We will invest in education so you can quietly do their job and invest all the best in these beautiful young people," he said.
How many are teachers in neighboring countries
According gosstata, educators receive an average of 5292 hryvnia or $ 196. From neighboring countries, most teachers are paid in Slovakia, 1585 dollars, and Poland – 1267. In Russia, teachers get $ 477 per month, in Belarus – 210, in Georgia – 171 dollar.
Comments
comments