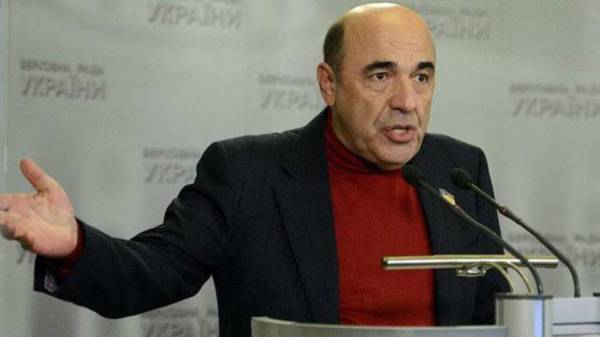 People's Deputy of Ukraine, leader of the political party "For life" Vadym Rabinovich is convinced that Ukraine should remain neutral and non-aligned independent state, like Switzerland.
About Vadim Rabinovich said on the sidelines of the Verkhovna Rada, commenting on the visit to Ukraine of the dignitaries, in particular, Secretary of state Rex Tillerson and NATO Secretary General Jens Stoltenberg, as well as prospects of Ukraine's accession to the Alliance.
"About NATO we have already, consider finished speaking. We were not waiting, we have repeatedly said. The Alliance does not need us, we don't need NATO. So you need to build in Ukraine Switzerland Eastern Europe — a neutral and independent Ukraine, the country where the head angle — the welfare and purchasing power of the people and their rights", – said the politician.
The parliamentarian expressed confidence that the priority for Ukraine should be real fight against corruption.
"The more that there is a statement of our Western partners, saying: "What's the point to fight for the body of Ukraine, if have sold the soul of corruption?", he said.
The leader of the political party "For life" emphasized that now in Ukraine the fight against corruption is the National anti-corruption Bureau (NAB).
"We see the corruption beginning to catch NABOO. May soon begin to plant thieves. Our party "For life" supports the NABU, supports the Sitnic (Director of NABU Artem Sytnik – approx. ed), supports those who are fighting against corruption. The soul of Ukraine, which sell to the devil of corruption, we will not give," — said the MP.
Recall that on 8 June, Parliament legislated the policy of Ukrainian membership in NATO. However, while applying for the membership of Ukraine in Alliance. NATO chief Jens Stoltenberg said that Ukraine needs to go in Alliance with "the substantive (independent) partnership".
Comments
comments