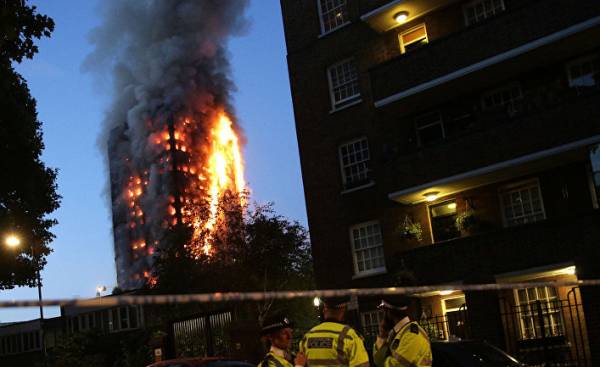 If you live in a high rise apartment building in Britain where there are earthquakes and active volcanoes, the highest collective risk for you and for others is fire. In a 24-storey building where the upper floors are inaccessible to the fire brigade extension ladder, where 120 apartments, hundreds of electrical appliances, dozens of smokers, where it is sometimes drunk, and where God knows how many flammable furniture, the fire is just what we should fear most. And from the need to defend themselves. Obviously. And it certainly known to everyone.
However, early on Wednesday morning the sky over the Western part of London lit giant funeral pyre, like the movie "the Wicker man", but real, visible at a distance of ten kilometers. Many people find themselves in a fiery trap. For a couple of hours, the fire engulfed all apartments Grenfell tower above the fourth floor. The fire inspector told reporters the obvious, saying that "there's something wrong, something terrible." He added: "If in one of these buildings there is a fire, we expect that it can be localized and retained in the same apartment. Who could expect that he was so widely and quickly spread? We haven't seen."
At the moment we don't even know how many people have died, and especially how the fire started and how it spread. There will be an investigation, everyone will say that to jump to conclusions does not follow that we must wait for the results of the investigation. In a sense they are right, because speculation and assumptions are useless and even harmful. Yesterday morning, when from high-rise buildings, Grenfell tower still rose the smoke, the conspiracy theories, the authors stated that most likely, to blame the city Council colluded with the rich developers and decided to get rid of unwanted tenants with low incomes.
But I think there are other opinions, which should not be forgotten. Standard advice for the residents of Grenfell tower (the skyscraper owned by the city Council, and manages there house trust) in the event of fire was this: stay in the apartments. One resident of this house said that as recently as last week came to him the London fire brigade and instructed in case of fire remain in place. Of course, the responsible authorities proceeded from the fact that the design of the building will keep the fire in a small area before the arrival of firefighters, who can handle him. Now it is clear that, first, it is not, and secondly, the advice to stay in place led to disaster.
To say the obvious things that often are not, it is necessary to look to the past. To explain my idea, I want to bring you back to the middle and late 1980s, when in Britain there was a series of chaotic disasters that every single one was preventable.
In my opinion, this series of man-made disasters started in may 1985 when a fire occurred in the main grandstand of the stadium belonging to football club Bradford city. The team played a match in the third division with the "Lincoln city", the tribune, was made of wood under it has accumulated a large amount of trash and someone threw down a match or lit cigarette. 56 people died, many have suffered dreadful injuries. A tribune was prepared for demolition, and about the risk of fire, all was well known.
Less than two years, shortly after leaving the Belgian port of Zeebrugge sank the British ferry Herald of Free Enterprise, killing 193 passengers and crew. Someone has not closed a large bow ramp and the lower deck was flooded with water, causing the ship capsized. Not necessary to be seven spans in a forehead to guess the reasons. And to prevent the tragedy can be easy and simple.
In the autumn of the same year, between the steps of the wooden escalator at the metro station "kings Cross" down fell dropped by someone a match. There was debris and grease. Almost the same as on the stadium of Bradford city. Killed 31 people. We banned Smoking in the subway and began to clean up the garbage. Next spring 96 people died in a stampede at the stadium "Hillsborough", which occurred because of a series of errors and combinations of circumstances that could have been foreseen. A few weeks passed, and the pleasure boat "Marchioness", which made the evening cruise on the Thames in Central London, collided with the excavator, resulting in drowned 51 people, mostly young people. And the "Marquise", and the dredger was a bad review, but both crews were poorly instructed on security measures.
These disasters have many common causes and characteristics. Mostly they occurred because of the use of old, worn out and dangerous infrastructure, insufficient funding of repairs and negligence in security matters. If you have ever had any reason for complaints to the health and safety of people in recent years, you should remember that this is partly caused by the tragedies of the 1980s.
We as a society realized that when light up a stadium, it's not bad luck, not a natural disaster and not a coincidence of fatal circumstances, which could have been avoided. We understand that it is impossible to beat on their tails, responding only after the tragedy, and that we should not bring the situation to such a disastrous outcome. For this reason, we began to build a culture of prevention. We are tired of funerals, wreaths and Teddy bears, and set about eliminating the causes.
But have we forgotten about this? We climb higher and higher: eight per cent of Londoners now live in high rise buildings. This is less than in other comparable capitals, but we are building rapidly and more and more. And 500 of the 700 of London's skyscrapers with 11 or more floors were built over 40 years ago. Many British apartment buildings no automatic fire extinguishing system, which in new buildings is mandatory. What the children and residents of old houses more fire-resistant? How can one justify the absence of refractory materials and tools in old houses, while new high-rises is the standard rule? And then there are the outer covering of houses, which in the case of fire spreads fire in a supposedly isolated and fireproof apartments. Something similar happened during a spectacular fire in Dubai hotel Address Downtown on new year's eve 2015 (when not lost none of its mostly wealthy residents). If the reason was the casing, it is also quite predictable. And the fire also could have been prevented.
Such things usually happen because of improper relationships and money. We are allocating billions to fight the terrorist threat (and rightly so), but I don't want to spend millions for the installation of sprinkler systems, although it may save more lives. People hoarse say about health and safety. But really, talk is not enough.
We as a society are tired of the funeral, wreaths and Teddy bears.
Comments
comments