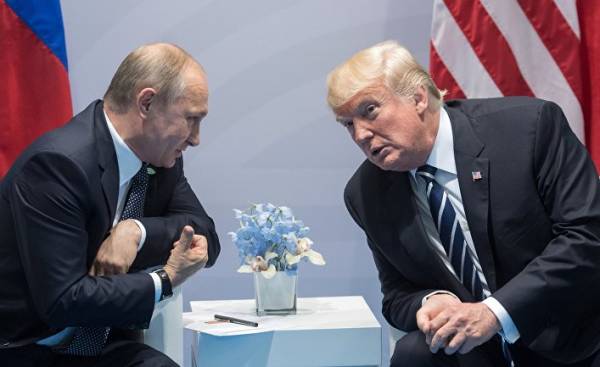 And here's the first negative signal for Ukraine following the meeting, trump and Putin in Hamburg. During the Senate hearings and the positions of a number of influential Republicans, the FBI began an investigation of possible intervention of Ukraine in the elections of the President of the United States and collusion of staff of Clinton with the official Kiev on the transfer of compromising some of the closest associates of trump.
Remember the story of Paul Manafort, which Donald Trump had to fire after the publication of the scandalous "granary books" regionals? Remember what the USA scandal, and as the headquarters of the Democrats used this information to discredit the opponent? Well here is the answer….
What is the boomerang effect in politics? This is when you start a negative wave, which is having a particular path is back with a vengeance, and he might overwhelm you. I have no doubt that this is the situation. Trump, of course, have not forgotten this. Well, Putin, I think, provided him with certain documents proving the relationship of the top political leadership of Ukraine with the environment Hillary…
In addition, Manafort recovered from the "knockdown" and decided to take revenge on their oppressors. In General, all converged in time and space. And converged in a very negative light for our country and to establish relations with the new American administration. It is a strong move trump. He demonstrates his critics, opponents of the Democrat party, that they are not "white and fluffy", and that all their attempts to accuse the Kremlin of interfering in the elections, only a distraction from their own failure…
In addition, if the version with the transfer of the Putin documents were confirmed and it proved the intervention of Ukraine in the elections and help one of the candidates, it would be a fatal blow to the reputation of our country. Moreover, the White house became the usual accusations of ties with the Kremlin, and Moscow's intervention in the elections on the side of trump. And here's a reversal….
And for the FBI opened wide opportunities and prospects. And Russia, of course, to take advantage of the situation in their favor. In short, the honeymoon of our relationship with the United States a Pat on the shoulder, and certain achievements in the international arena, can quite suddenly ended. Moreover, we understand that the attempt of Kiev to play along with Clinton through the dirt on entourage trump was the place to be. And this is really very serious. The Republicans will now heat up this topic, not allowing the FBI to cover it up.
He and Donald trump will be able to force Ukraine to be much more tractable. In particular, the settlement of the situation in the Donbass….
In short, we can expect very interesting developments with unpredictable consequences. And this is a very serious challenge for our diplomacy. For their mistakes and failures to pay dearly.
Comments
comments