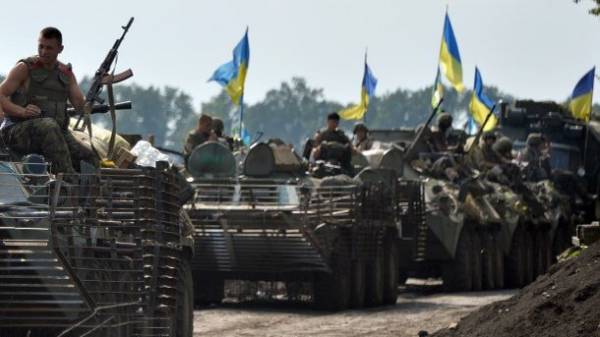 The President of Ukraine Petro Poroshenko praised the Ukrainian army, and believes she can resist Russian aggression. He said this during the opening ceremony of the memorial sign "Cossack cross freedom fighters" near the Holy resurrection Cathedral of the UOC-Kyiv Patriarchate in Sumy, reports UNIAN.
According to him, Ukraine in the last three years managed to revive the army.
"The modern defenders of the independence, territorial integrity and sovereignty of the Ukrainian state has proved and proves that the Ukrainian army, created over the past three years, restored, revived, is one of the most effective armies of the continent, which is able to stop the Russian invasion. It is efficient, strong in spirit and able to resist Russian aggression," said Poroshenko.
Read also: Poroshenko Tillerson: "Kiev did not start the war, it was planned in Moscow"
He stressed that while some Ukrainians are fighting with the aggressor, others are working and strengthen.
"We really are a strong nation, like a stone. Ukrainians as a rock, which skillfully and sword and plowshare, and our guys give rebuff to the enemy in the South-East of the state, and millions of compatriots in their jobs, and strengthen the country," said the President," – concluded the head of state.
We will remind, today the President of Ukraine took part in the opening of a new plant in Sumy, which will give about 300 new jobs and the average salary is more than 12 thousand hryvnia.
Comments
comments