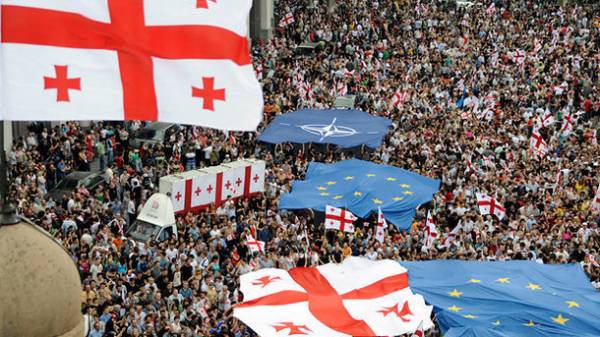 Georgian activists came out to protest against the Russian occupation, in particular the arrangement of the border in the occupied territories, reports "Georgia Online".
Georgians are outraged by the inaction of the authorities when the Russian border guards equip the border with occupied South Ossetia. The protest is held at the building of the state Chancellery of Georgia.
Protesters pulled themselves in front of barbed wire as a symbol of the occupation. In hands they held posters with inscriptions: "Russia is our enemy!", "Russia kills!".
In addition, the protest March started from the state in the direction of the village Bershueti, where according to locals was recently installed the new occupation banner. There Georgians have come up with similar slogans: "No to occupation, the Russian occupier!". It is attended by the students of Georgian universities, members of the public.
As stated by the participants of the event, its goal is to challenge the movement of the occupation line by the Russian military. According to one of the organizers of Anna Japaridze, the part of the participants planning to spend the night at the occupation line.
Earlier, Georgia has accused Russia of encroachment on their sovereignty.
Comments
comments