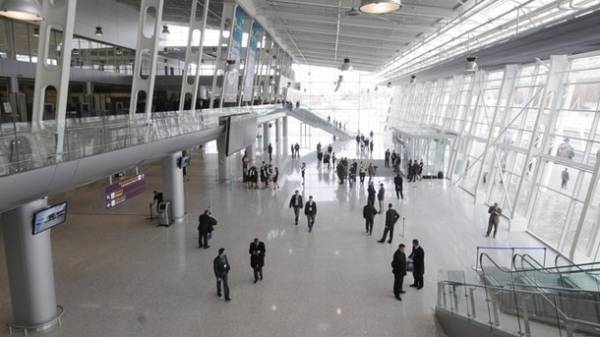 Lviv airport agreed on the working conditions of the Irish airline Ryanair in February, but talks with the airline lasted six months. Airport Director Tatiana Romanovskaya told the website , "Today,"as she signed the contract with Ryanair without violating the law and whether to wait for the return of the airline to Lviv.
"The Treaty of Lviv and Ryanair has long been agreed and signed. Now the only question is "Borispol". Just airline came to Ukraine with an oral requirement: they will work if there are Kiev and Lviv. We have already appealed to the Ministry to "Borispol" has revised its terms. Yesterday we spoke with the management of Ryanair. We were given hopethat if in the near future Kiev will have the desire to renegotiate the terms – they will return. I hope that in a few days can affect the management of "Boryspil" to the negotiations continued. When our airport was the contract many of their conditions, we rejected. We argued that it is illegal, it will take more time, which is impossible. Every item we discussed and argued our position. We can agree only that in our submission. Ryanair insisted for a long time, but eventually agreed, and we moved on. Together we were able to draw up a contract that meets our laws, our terms, which is competitive and does not go against commercial components. Our contract was ready in February, so the sale of tickets began in March. "Boryspil" and have little time or they can't convince – I don't know where they stopped. We have not violated any law and nothing paid Ryanair", – said Tatiana Romanov.
Earlier, the Director of the Center for transport strategies told "Today" the error of Ukraine in negotiations with Ryanair.
We will remind, the Director of "Borispol" has refused to sign an agreement with the Irish airline because of the excessive demands of the air carrier, that violated the law. The Minister of infrastructure Vladimir Omelian already declared intention to dismiss the General Director of the airport "Borispol" Paul Ryabikina for the failure of the contract.
Also today, the Hungarian low cost carrier Wizz Air launched for Ukrainians fares for cancelled flights Ryanair cost from 15 euros. The carrier said the launch of these "rescue" rates from 15 € to 35€, to reduce the number of passengers affected by the cancellation of the exit to Ukraine Ryanair.
Comments
comments