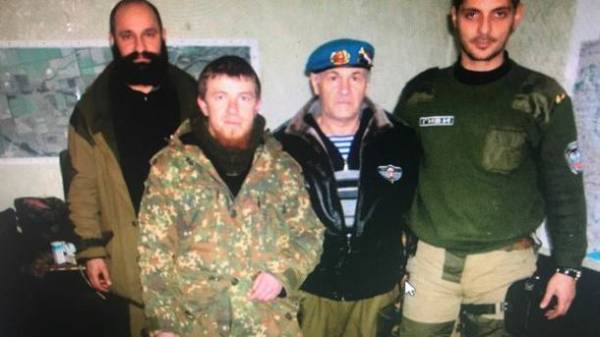 Ukrainian law enforcers have exposed the Russian Colonel Valery Grachova, which, under an assumed name and false passport had intended to get from the territory of Ukraine in Transnistria. About it I wrote in Facebook the speaker of the state border service Oleg Slobodyan.
"During the second line of control at the shift supervisor of border duties is having doubts about the trip purpose of the citizen (he provided a telegram with PMR about the dire state of the health of the mother and was confused with the data of your passport). For a detailed survey of the suspicious citizen at the checkpoint arrived officers of operating units of the state border service. The man offered to show contents of pockets and Luggage. A few opposing, the latter pulled out of the pockets of mobile phone, which contained photos from the separatist rallies, money, bus tickets," – said Slobodyan.
Viewing things in his jacket, was discovered interesting findings.
"Was discovered a sheet of paper with installation information and phone numbers of persons in Transnistria and the Russian Federation, the order "Red star", a smartphone flash media (they discovered photographs of the detainee with the terrorists "Motorola", "Givi", Zakharchenko; video of shelling of Ukrainian territory; campaign materials "DNR" and "LNR"; photo from the field of combat action in debaltseve, the Donetsk airport, Gorlovka, Snow, Brandishing documents official documents with his signature, methodical materials on carrying out reconnaissance and sabotage activities and other interesting information)," wrote the speaker of the gpsu.
In the end, managed to install and the real identity of the detainee. He was a Colonel of the Russian Federation of Valery Grata, 52 years, of which Russian security services were planning to do, "Deputy Minister of state security of PMR". The detainee, border guards handed over to the SBU.
As reported earlier today, Colonel Grata was arrested while trying to enter the territory of Ukraine in Transnistria.
In the context of strengthening the Russian presence in Transnistria experienced officer of the airborne forces, it is worth remembering the recent words of MP Iryna Friz about the possible impending threat from Transnistria.
She noted that in the unrecognized Republic reported suspicious activity of Russian troops. More information you can read here.
Comments
comments