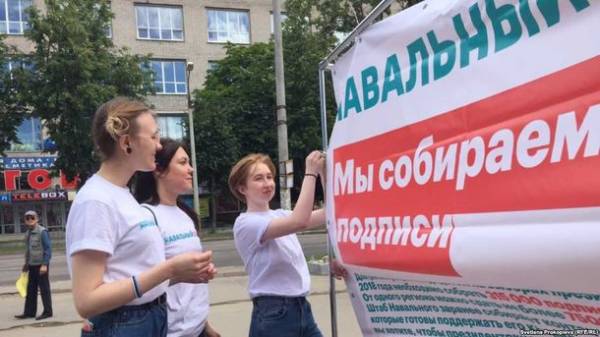 In 12 cities of Russia, police detained about a hundred representatives of election headquarters of opposition leader Alexei Navalny. It is reported by human rights portal "OVD-info".
According to him, in Moscow have detained about 70 participants in the "cleanup campaign" Navalny for "violating the order of holding mass events". It is reported that six had been released after drawing up protocols.
In St. Petersburg detained three activists of the headquarters of the Bulk. In Gatchina unknown persons attacked the activists, two of whom were in the hospital. The action was eventually thwarted. In Yekaterinburg detained for "explanation of the police" lawyer of the local headquarters of the Bulk, and then another four. In addition, on the detention of supporters of opposition leader announced in Novorossiysk, Krasnodar, Petrozavodsk.
In Kaliningrad have detained the four activists, same – in the Irkutsk and Moscow, five – in Tyumen. In Voronezh the police took to the Department of 10 people. The human rights portal "OVD-info" reports that among the detainees are minors. Confirmation or refutation of information from law enforcement bodies of Russia.
In Barnaul the police on Saturday blocked the entrance to the headquarters of Navalny and seized leaflets and Newspapers. In Bryansk – stopped the car with agitation materials and confiscated 770 Newspapers.
Recall, this weekend supporters of Russian opposition leader Alexei Navalny hold a planned two-day promotions.
Comments
comments