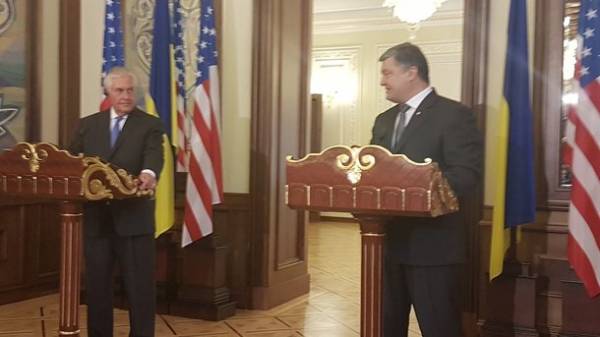 The special representative of the United States in the Ukrainian settlement Kurt Volker will stay in Ukraine for a few days to solve the issues of bilateral cooperation, said President of Ukraine Petro Poroshenko.
"I am very grateful that after the appointment, literally in a few hours with you in the delegation Kurt Volker. Welcome, and thank you for your decision that he stays with us for a few days so we didn't hang the issue, tightened it, and immediately after several hours after the appointment started effective cooperation", – said Poroshenko at a joint briefing with U.S. Secretary of state Rex Tillerson in Kiev on Sunday.
The Ukrainian head of state expressed hope that the experience of the Walker combined with his determination will accelerate the negotiation process and will allow to count on the implementation of the Minsk agreements by the Russian Federation.
As reported, Tillerson on Friday, 7th July, appointed the former U.S. Ambassador to NATO Welker as special envoy in Ukraine, which will coordinate the efforts of the state Department to resolve the situation in the East of Ukraine.
Comments
comments