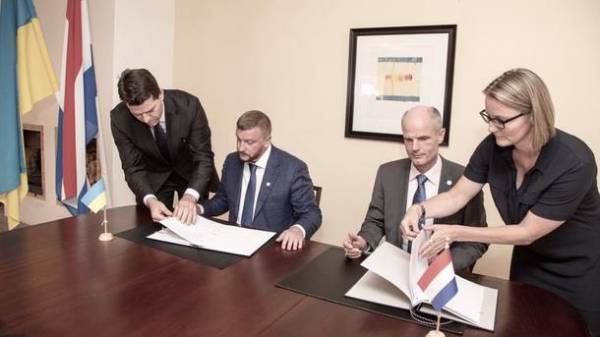 Ukraine and the Netherlands signed an agreement to create legal grounds for prosecution by the court of the Netherlands of the persons involved in the crash of flight MH17 in the sky over the Donbas. About this in Facebook said the Minister of justice Pavel Petrenko on his page.
"Just a few minutes ago, in accordance with the provided to me by the President of Ukraine the authority signed the Agreement between Ukraine and the Kingdom of the Netherlands, which will ensure the investigation and punishment of terrorists involved in shooting down a Boeing passenger of flight MH17," wrote the Minister.
Pavel Petrenko said that under the agreement, the prosecution of those responsible for the disaster, will be implemented in the framework of the national judiciary of the Netherlands. According to him, such step will allow to concentrate the investigations in the framework of the justice of one country.
"It's not a crime against the Australians, the Dutch and the representatives of other countries. It is a crime against humanity. And we must do everything possible to involved in the death of nearly 300 people are unable to avoid responsibility," he added.
See also: "the Crash of MH17: the United States expressed the position at the trial in the Netherlands"
"I urge representatives of all States to provide the necessary support and assistance to carry out the investigation and prosecute the perpetrators as provided by the resolution of the UN security Council," – said Petrenko.
Earlier it was reported that the judge suspects in the crash "Boeing" MH17 will be in the Netherlands.
Comments
comments