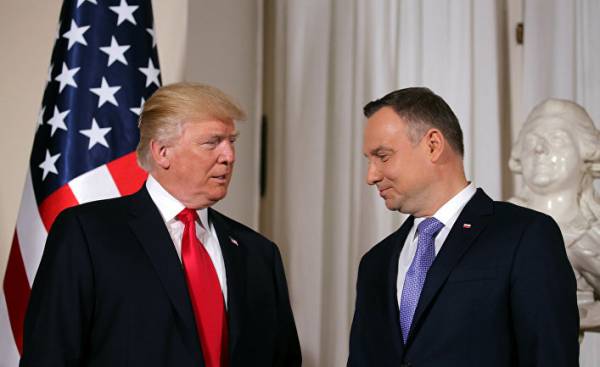 Interview with General Roman Polko (Roman Polko)
— wPolityce. pl: has Brought us a Memorandum on the subject of missile complexes Patriot have to buy them, which we've been waiting for more than one year?

Roman Polko: Now we can be sure 100%. Negotiations on access to this technology was conducted in 2006, more than ten years. When that period came the conversation about missile defence, the opposite party has advanced the argument that Russia is not dangerous, therefore Poland such systems are not needed. Told the Americans that need them. Now the geopolitical situation has changed, and should be glad that Donald trump saw coming from Russia as a threat. Even here we need not words but deeds. Memorandum — this is great progress and success. This is exactly what we wanted. In Poland, in fact, no air defense, it is necessary to create from scratch. It will be good if we do this with modern technology, which proved to be efficient.
— The question of the purchase of the helicopters remained open. What technique is needed Poland? What weapons should we do now rate, can we discuss with the Americans the new contracts?
— The problem that we face in the production of, for example, artillery is electronics and modern technology. Our main task is to access them, so we in Poland were able to produce weapons and not just buy them, speaking market. I know that some think rather about cooperation with Europe, but the contract for the helicopters Caracal also gave us access to modern technology, Poland would only be an Assembly plant.
The key to success of the Polish defense industry modernization on the basis of modern technological lines. Complexes Patriot have in this context of great importance as they provide us with such access. Such direction of development of the military-industrial complex will strengthen Poland's security, and most importantly.
— Trump has more to say about security, he referred to the Fifth article of the Washington Treaty, from which it follows that in the case of the attack on Poland she will come to the aid of American troops. Why did he change his rhetoric?
— Some commentators have said that if trump is up to 13 hours (during his visit to Warsaw — approx. TRANS.) that said, I wish he never came, because he even said that does not guarantee the presence of American forces in Poland. I consider trump a politician who is responsible for his words. The fact that he and American armoured brigade are in Poland — this is a strong argument. In turn, any promises could wipe out chances of talks with Vladimir Putin. I'm not surprised that trump did not give promises. Well, in his speech sounded the theme of the Fifth article, if this has not happened, it would mean that he seeks to preserve a privileged position compared to other States.
— How are they threatening him?
— Now from the lips of the leaders of certain States, we hear a sharp and not very diplomatic remarks in his address. The attacks intensified after the statements which described the real situation: the United States alone to meet the commitments within NATO and some other countries forget about strengthening its defense capabilities and contribute to the defense budget only a small percentage of funds. When Russia armed, these States are rather disarming.
I think that is an element of the diplomatic game. From the point of view of Polish security it is important that trump came to Poland, met with Polish President, gave a speech. It would be good if he promised that, if necessary, to give effect to the Fifth article, but all so well.
I know many politicians who were making generous promises, but then forget about them. In my opinion, trump the politician responsible, which declares itself in deeds, not words. His predecessor, Barack Obama said that during his presidency in the Polish redzikowo will be elements of a missile defense system, but this did not happen.
— Trump had to declare that American troops will remain in Poland for a longer period?
— After the Warsaw summit of NATO, some were ready to proclaim the ultimate success and rejoice in the presence of the troops. Later there was a crisis on the Alliance-Turkey, which was immediately taken advantage of Russia. We must do everything possible to strengthen its security, with no illusions that if someone gave us the guarantees we can sleep peacefully. Perhaps even better that they are not: it motivates us to deepen our cooperation and to deal with its security independently. Ukraine was the Russian guarantees on the Crimea, but Russia did not put much stock in them.
Comments
comments