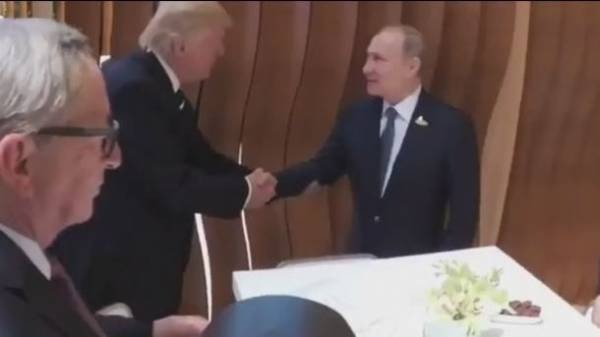 At the summit of "Big twenty" in Hamburg (Germany) there was a significant event for Russia – Russian President Vladimir Putin met with the American leader Donald trump that the leaders of the two countries and cemented with a handshake. The corresponding video was published on Twitter journalist of the Kremlin pool Dmitry Smirnov.
After the presidents of Russia and the United States arrived at the summit, they first shook hands with German Chancellor Angela Merkel, and then went into the waiting area and was at the same table.
They greeted each other, and trump "friendly," Putin Pat on the shoulder.
The handshake of Putin and trump: Donald the arm pull did not, but quietly patted on the shoulder pic.twitter.com/yqY8AyKj1t
— Dmitry Smirnov (@dimsmirnov175) July 7, 2017
As posted earlier on Twitter Donald trump, he is "looking forward to all of today's meetings with world leaders, including Vladimir Putin," noting that "much to discuss".
Previously a powerful handshake from the American leader "suffered" the French President Emmanuel macron, Prime Minister of Canada Justin Trudeau and the Prime Minister of Japan Shinzo Abe. The President of Ukraine Petro Poroshenko also shared his impressions from shaking hands with trump.
Comments
comments