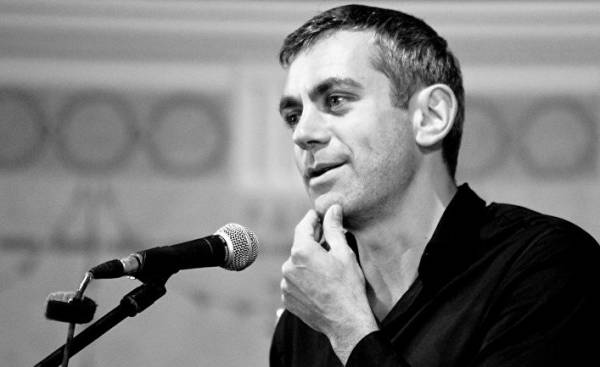 Meeting with Vladimir Kaminer started fun and ended just before the third world war. It sounds a little funny, but that soon will break out world war III, blame rubber boots. And Putin. And Vladimir Kaminer, who can explain that one logical inevitability after another should lead to the fact that the question of rubber boots will soon unleash a third world war.
Early noon, and Vladimir Kaminer sits in the "Fish shop", which, although called "shop", but really it's a restaurant on Senhauser Avenue in the Berlin district of Prenzlauer Berg. Terribly cold outside, but inside Kaminer sits at the largest table in the middle of the small room and drinking coffee.
When you see how he sits, just want to make friends with him. Kaminer 49 years old, but he looks like he just came from the scout camp. His shirt is the same blue as the Wallpaper. His hair begins to turn gray. He still would have been a wonderful scout, a scout with white hair. So I think in the first moment.
The second point to notice his voice, and camp fire girl scout gets a little sway. The voice of Kaminer thunders across the "Fish shop". This leads to the fact that he start talking all quiet like so you can reduce the volume so that not all the people who want to eat fish, were forced to listen to us. Kaminer is very helpful. We're talking to You.
We immediately started talking about the Russian President. First a little chat. For example, about children. The Kaminer two of them: one adult and one almost adult. Almost an adult, did not want today to go to school, though he soon wants or needs to go to high school — from this you will not understand. Adult just separated, and he may not have washing machines and parent cats. "Everyone needs their own cat. Every child needs to be someone who he can blame for failure." This is a typical expression of Kaminer. Now they pop up one after another. He's got a rolling "R". "Fish shop" is listening.
Kaminer orders of the Tartars of tuna. Raw fish with soy sauce — it seems that he loves. He fills ceviche a very large amount of soy sauce. The sauce ends. The waiter needs to bring a new. Thank God, there are also cheeseburgers.
Almost adult child still had to go to school today. Adult child must finally adopt a cat from a shelter for animals. Neighbor Kaminer caring for animals. His mother-in-law are from Georgia. His wife is Russian, she "generally the Russian woman".
He is talking as if reading from a notebook in which he collects ideas for his next book. Felt the warmth of the campfire. Shirt Kaminer and Wallpaper in the "Fish shop" so perfectly combined with each other. The cheeseburger is delicious. All could never be. If not for Vladimir Putin, who is coming to our beautiful camp fire with a bucket of water.
Kaminer was once a Russian, and though he forever has a German passport, he still remained a Russian — and that's not a contradiction, although it sounds that way. To be Russian is kind of his role, or even better: his business model. Many years Kaminer went to Berlin and pretended like he was surprised at where it brought him, when in 1990, the year he fled from Moscow to get to America or England, but then got stuck in Berlin. It was great fun.
It would be in America as well as in Germany, hard to say. But we can say that Berlin brought him happiness. Kaminer writes almost every year according to the book, and it is not boring.
Great in his books is that when you read them, I think that between Russians and Germans is possible to deep affection. When Kaminer writes about bio-shops, separate containers for trash and about men who wear helmets for cyclists, the German-Russian sympathy is real, and does not prevent the fact that almost all is a clear mockery.
And isn't it wonderful that the Russians and the Germans again with sympathy to each other, after all that — how to say it better — there was this stupid 20th century? Really like is not a bad way of looking at things, ha ha, or? And really it's always been fine, when he will visit Russia! Always vodka from a glass, dance and sing Russian songs without understanding a word. It is now I say.
And Kaminer rolls his eyes and utters the word "cliché", which I think is despicable, because there's nothing I can do about what I saw what I saw. Women in high heels ran across the sand in the Siberian steppes, while the husband got drunk, stayed in the house. And still like them, these Russian, and also Russian like we Germans what they always told me in Siberia. Or?
Kaminer says No.
And I said Yes.
But Kaminer: NO!
I: YEAH!
Kaminer: If the Russians say they love the Germans, they're lying. Russians don't like Germans.
I told Kaminer funny? But it's not as much fun. Inside it was cooler, and a cheeseburger is not so tasty. We chatted on as if nothing happened.
Kaminer wrote a book about politics, it's called "goodbye, Moscow. Reflections on Russia" (Goldmann, 12,99 euros) and just left. Of course, I started immediately to look for her cheerful Russian from the district of Prenzlauer Berg, but found something else: criticism of Russia may be man-hating Russia. It is impossible to say for sure, as Kaminer and as a political writer wants to be funny, but in a scary serious cases.
In this book very often refers to "soldiers without insignia" which Kaminer implies dressed types, on behalf of Putin attacking a neighboring country. We are talking about mismanagement, oppression and terror. Not about Islamist terror, the Russian terror.
Me: You a political person?
Kaminer: I'm not interested in politics.
Crimea, Eastern Ukraine, Syria, trump, Putin — wherever you look, politics moves closer. Politics entered the life. She took a seat at the kitchen table and claim a place of honor that was formerly a grandmother, says Kaminer. Should something occur. Putin. Putin, Putin. Someone needs to stop Putin. Therefore this book.
A person who believes that friendship with the Russians, in principle, useful, but not useful to annoy, hmm, the world power, if it's so big and so close as Russia, and so easily becomes aggressive as Putin is, he thinks Kaminer greatly exaggerating.
Me: You're not exaggerating?
Kaminer: On The Contrary.
From this point on only politician says Kaminer. Policies Kaminer says: Putin grabs what he wants. Crimea, Eastern Ukraine. Next will be the Baltic States. Then the GDR. It really says "GDR", here on Senhauser the Alley. And Angela Merkel keeps mum on it, like a cow in the barn. It really says "the cow in the barn". And unwittingly quietly looking out the window. If there is already tanks on Senhauser the Alley? No, it's column "Trabant".
Now Kaminer went into a rage. A little scared that was going to blow a fuse. I just worry, as all listen.
GDR might like Putin. Because it almost belonged to him, says Kaminer. And West Germany, he said, would appeal to Putin. Everywhere there are Russians, which Putin needs to protect, says Kaminer and says a few phrases, clichés: the Russians sitting in Berlin in the Grunewald and in the district of Prenzlauer Berg. They sit in the boxes for cigar Smoking in five star hotels, drink cognac on her knees and they sit 18-year-old girl. They sit at the corner tobacco store. They want the protection. They need to utter a word.
Then there will be Putin with tanks. Come to the soldiers in uniforms without insignia, the same soldiers that constantly appear in a new book by Kaminer — the lack of insignia is for him the real issue. Putin defends Russian all they need to do is call. Kaminer says it is. I have several times listened to the recording in the recorder. But seriously if he thinks so? It would be good to know.
I: now let's get serious. Why Putin needs to do it? This means trouble with Merkel, with NATO, with the whole world.
Kaminer: You are defending Russia!
I: But Putin is not a fool or?
Kaminer: Katriin! You are so annoying!
Kaminer considers a fool of not only Putin, but primarily me. And still I am curiously waiting for his response. This is a tense moment because Kaminer first silent. His silence sounds reproach. I'm a little afraid that he would get up and leave. But then he sighs loudly. And in this place there are those rubber boots. A little later third world war.
Putin can't do smartphones. He can't do cars. He can't do even rubber boots. Rubber boots are certainly poetic, and in poetry Kaminer understands, because he Russian. To make rubber boots are needed, first, freedom second, justice in the third — people are capable of. Since the first and the second in Russia, others are leaving the country and building their factories there. In Russia, on the contrary, every owner of a factory for the production of rubber boots must reckon with the fact that he would be arrested and everything confiscated. Therefore, Russia cannot be and never will be factories producing rubber boots.
Kaminer: Russia can not do anything. Putin can not do anything.
I: Nothing? Dostoevsky. The Bolshoi theater. Chess. It's nothing?
Kaminer: Katrin You… a friend of Putin!
Kaminer went into a rage. He shouts: "Oil!" is the only thing that Putin turns. To do this, he needs nothing, no cars, no technology. The buyers will bring, machines and equipment. And buying oil, they thereby take the blame — blame that is funding the dictator.
Money, they say, Putin distributes, as a dictator. The third one (Putin), a third for 10 thousand (officers of Putin), a third for 145 million (people). The people did not notice that his cheating, his need to reassure: television programs and stories about poverty rest of the world — and here the logical circle closes, all poured into a third world war.
We are talking about losing. Putin needs a picture of destruction from around the world to distract from their own great destruction. And Kaminer saw through Putin.
Because in Russia there are no factories for manufacturing rubber boots, Putin to seize the Crimea and the rest of the world. So.
Tuna eaten. In the "Fish shop" cold. The camp fire was dead. World war III was at the door. And if you listen real hard, I hear a rumbling on Senhauser the Alley. This is not a column "Trabant".
Me: Vladimir, You just startled me.
Kaminer: Then I have achieved something, Katrin.
Comments
comments