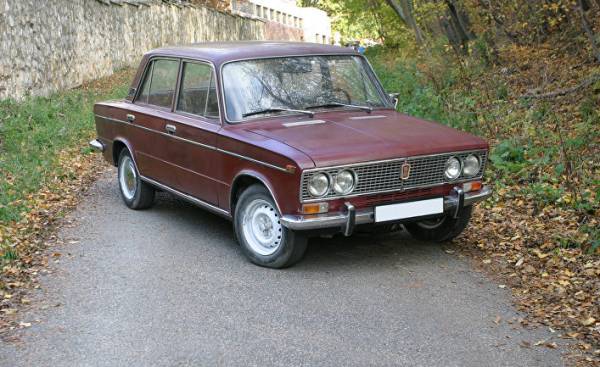 The fascination with cars has acquired a new political connotation in the 1970s and 1980s. One popular movement wanted to ban the use of cars, the other treated him with suspicion. However, one brand — Lada — has arranged all.
Introduced in 1966, the Fiat 124 was a relatively modern, spacious and very progressive machine for its time. When in the mid 1970-ies it has become obsolete, the production line has already managed to firmly establish themselves in the Soviet Union (with the support of veered left, government).
There, in the city of Togliatti, Samara region, state plant AVTOVAZ in the spirit of a planned economy were produced for decades a vehicle that was able to sell not only the workers of their own country, but in the so-called Western countries. Or, at least, in those Western countries, where they believe, at least secretly, in the same ideas.
Introduced in 1971 "Lada" was largely a copy of the Fiat, but the Russian managed to make it a little more dull, though more suitable for the harsh conditions of the car. Thanks to Russia's modernization with the rear axles disappeared disc brakes, and overall quality of the work does not even reach the Italian level.
"Lada", many were sold in Finland, but there were tricks. Partly the predominance of "Lada" in the statistics of car sales arose due to the fact that the importer gave information about all sold "Odds" in one statistical report. Other brands of machines I had to share.
All Lada 1200 (VAZ 2101) was to the East of the producer of a good, warm and cheap car. Maybe not as good as it seems in the memories of those days, but still. "Frets" was crammed all Parking areas, the backyards of factories. She was all colors, which only she could paint as part of a planned production.
And, of course, if from the point of view of workers West the car was only a relic of the bourgeois, "Lada" was the best example of brilliant engineering Eastern other.
User comments:

Lada oli hyvä auto
Lada plant in the cold and was warm.
A small pit, she was uneasy.
Much you could fix it yourself, and it was inexpensive. What else do you need?
Safe driving always depends on the driver.
Ladapapparainen
In January of 1987, here in North Karelia, was a terrible cold two weeks was cold 35-43 degrees. I was then "Lada" 1980 edition, and when a smart machine Western neighbors was freezing, "Lada" it was uneasy.
Assi
"Lada" is good, if it not to go!
AIKANAAN HYVÄ
"Lada" was a very good car, extremely reliable. If the Lada 1200 was eating less gasoline, I still would have driven it.
Comments
comments