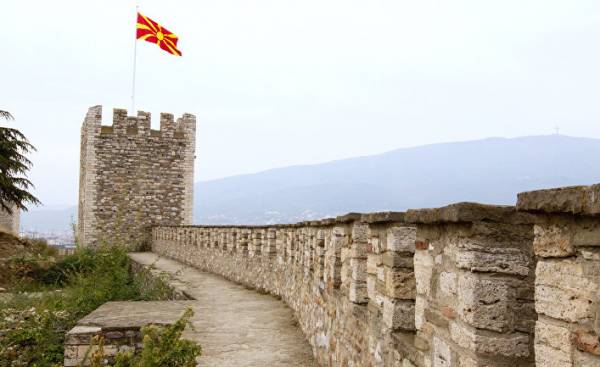 The new government of Macedonia is ready to go for a name change: neighboring Greece is seeking this here for 26 years. If the talk comes to business, Macedonia hopes to become a member of the defense Alliance NATO.
Fyrom — that's the name the Greeks its neighbor to the North, whose capital is Skopje. This name is derived from the English contraction of "the former Yugoslav Republic of Macedonia".
To mention Macedonia — a taboo. One of the regions of Greece bears the same name, and, from the point of view of Athens, the claims of the neighboring countries for the name implies it has a claim on Greek territory.
The dispute over the name erupted from the receipt of Macedonia's independence in 1991. He prevented the accession of Macedonia in the EU and NATO, as Greece has veto power.
But now the crisis is probably nearing resolution. The new government headed by Zoran Sevim, who took office on 31 may, the neighbor sends signals about reconciliation.
In an interview with the Financial Times on Monday, the Minister of foreign Affairs Nikola Dimitrov said in Skopje are ready to consider a change of name to obtain the consent of Greece on the country's accession to NATO.
"I want to ask Greece to consider what kind of neighbor they want. If they want to have a stable, friendly country that aspires to democracy and fairness?"
What could be the alternative, Dimitrov did not elaborate, but he urged Athens to take advantage of "this historic opportunity".
As it will be called Macedonia, the Minister of foreign Affairs to say not wanted. But they say that it will be some compound name like "North Macedonia" or "Upper Macedonia", which Greece was required previously.
One of the reasons for the sudden change of the position of Skopje on this issue — the growing interest of Russia to the Balkans, which bothers many in most of the former Yugoslav republics. Recently, a NATO member state was Montenegro after the coup attempt, which many suspect was involved in Moscow.
Nikola Gruevski, the previous conservative Prime Minister of Macedonia, relied on a hard line against Greece. When it was erected the monument to Alexander the Great, the warlike Greek king, who lived in the IV century before Christ. and who ruled ancient Macedonia. Skopje airport has also been named in honor of Alexander.
In an interview for the Macedonian state television last week the Prime Minister Zaev said that such behavior was provocative and "hurt relations with Greece". At the same time he refused to demolish the monument to Alexander, referring to the fact that it would be too expensive.
Comments
comments