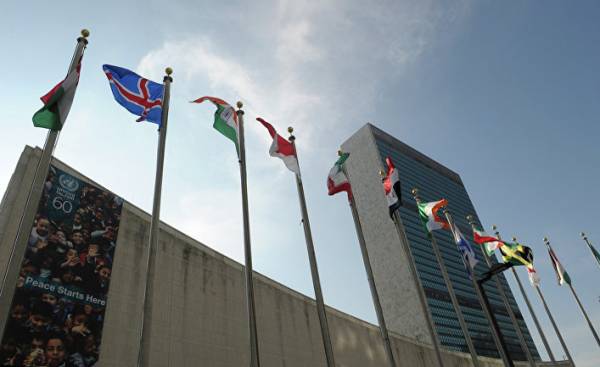 The chances for a major breakthrough in resolving the Palestinian-Israeli conflict is not just worthless, they don't exist. One who hopes today at the resumption of the negotiating process, reminiscent of the atheist, waiting for the coming of the Messiah. These are clear conclusions that can be drawn based on the results of the conference (dedicated to the 50 th anniversary of the six day war and the Israeli occupation of the West Bank — approx. ed.) held (at the end of last week — approx. ed.) in the UN building in new York.
The initiator of the conference on "the 50th anniversary of the Israeli occupation," was the UN Commission on the rights of the Palestinians. We are talking about the event, which, no doubt, is a demonstration of blatant disregard for any aspirations for achieving a peaceful settlement, a sneer against any idea of reconciliation and compromise, so essential not only for minimal progress on the path to peace, but simply in order to overcome the current stalemate.
A senior Palestinian leadership Saeb Erekat told the conference that "Hamas and the popular front for the liberation of Palestine are not terrorist organizations." Another "great" statement Erekat, the official representative of the administration in Ramallah: "to defeat ISIS (banned in Russia ORGANIZACIJA — approx. ed.), the need to end the Israeli occupation". So said the one who should sit at the negotiating table with the Israelis, if they ever will resume. But if so says a representative of the administration of Abu Mazen, what can we expect from those who are considered supporters of Hamas?
A similar disregard for the process of settlement demonstrated, and the Israeli representative at the conference, General Director of the organization "Be-goal" Hagai Elad Daniel, speaking of attacks on the UN security Council over what he puts into practice its resolution 2334 directed against the Jewish settlements beyond the "green line." It is quite legitimate to oppose settlement activity in Judea and Samaria. But is it possible to do this within the framework of the forum, which was initiated by opponents of the peace settlement?
Israel's Ambassador to the UN Danny Danon issued a sharp condemnation of the conference and its participants. Very good. However, the Ambassador ignored the fact that the holding of this forum in the UN, with funding from this organization, make meaningless loud statements of the US Ambassador to the UN, Nikki Haley, who promised to put an end to the unilateral and discriminatory treatment of institution towards Israel.
Comments
comments