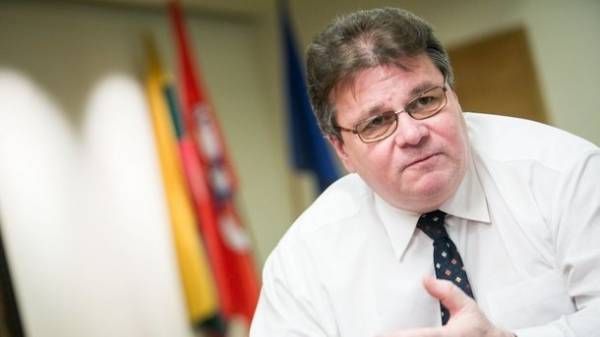 The Minister of foreign Affairs of Lithuania Linas Linkevičius entered into a verbal altercation with a journalist of the Russian TV channel Russia Today, explaining to her that Russia is waging war against Ukraine and to brainwash people with their propaganda. It was said at the Vilnius conference on safety of journalists, reports ru.delfi.lt.
It is reported that the dispute began after a representative of the Department of information and press of the Ministry of foreign Affairs of the Russian Federation Maxim Buyakevich spoke about the information war. "Whether we're talking about something that was officially released? This half-question, half-statement," he said.
After that, the Lithuanian Minister explained that the channel Russia Today has nothing to do with journalism.
"If you think that there is no war, why did Russia it is? Why it allocates so much money and resources to brainwash people, and doing it intentionally, using state-controlled media? You know the direction of such channels as Russia Today. I don't think it has anything to do with journalism," said Linkevičius.
Russian journalist said that journalists working for state-controlled media – the same journalists.
"What is propaganda to one person, may be true for another person. The question of what propaganda is very subjective, it will be very different answers and different opinions," she said.
This diplomat reminded her how Russian media coverage of the situation in Ukraine.
"It was stated that Russia has nothing to do with this war (in the Donbass. – Ed.) – no presence, no weapons, the presence of the military. It was stated many times. You, as a journalist, really don't know what is happening in Ukraine? You don't know that Russia is involved there with a lot of weapons, with heavy weapons? You, as a journalist, as a normal citizen who reads Newspapers and understands the situation, don't know it? "asked the Minister.
Informed the Lithuanian Minister said that today there is no Ukrainian crisis, and there are Russian aggression against Ukraine.
Comments
comments