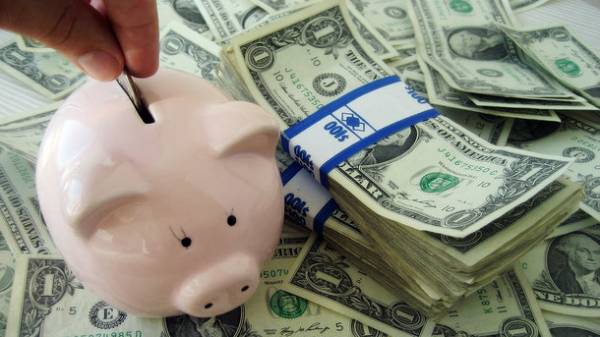 Deposits in Ukraine continue to fall in price since mid-June fell a yield of hryvnia deposits for all periods, except for the 9 months, writes minfin.com.ua.
Most average interest rates fell on demand deposits. The average yield has fallen by 0.37%. Deposit of 9 months average rate increased by 0,03%. Now a nine-month Deposit brings more returns than 12-month.
From June 16 the most reduced rates subsidiary of the Russian VTB Bank and international Investment Bank. The first reduced the yield of hryvnia deposits for 12 months 1.56%, the second – 1.34%.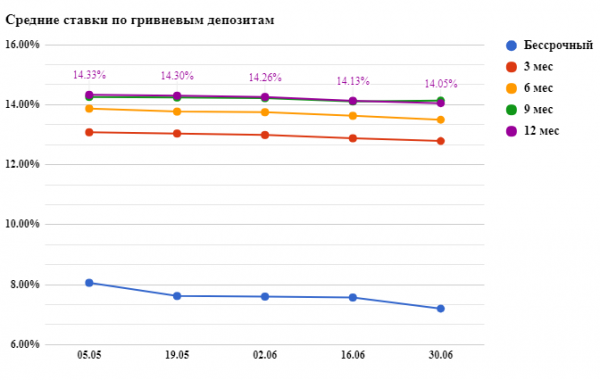 Interest rates on dollar deposits also mainly decreased. Most dropped the average annual yield of the deposits is 0.11%. The average rate on three-month deposits in U.S. dollars grew by 0.03%.
The average yield of deposits in Euro also continued to decline, with the exception of the annual contributions. The biggest drop rates were nine – and three-month deposits. At first, the average yield has fallen by 0.19%, the second – 0,18%. But the annual yield on deposits increased by 0.05%.
Among foreign currency deposits most "distinguished" VTB, which has long been the most profitable Bank deposits in dollars and euros. "Daughter" of Russian banks reduced the average yield on 12-month dollar deposits 1.65%. For deposits in Euro, the collapse was much more dramatic – on 3,89%.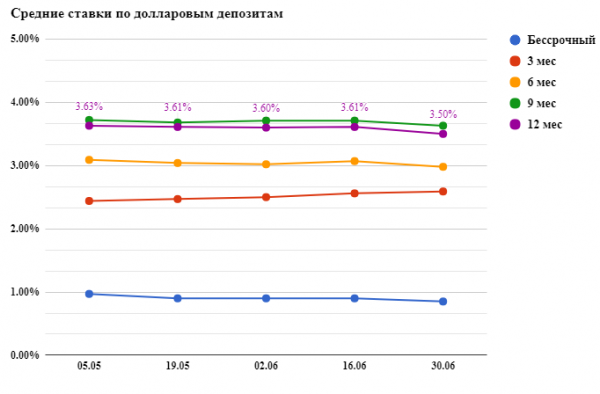 We will remind, according to statistics of the National Bank of Ukraine (NBU) after a long period of inflow of deposits of Ukrainians still have started to withdraw money from banks. This phenomenon, according to financial experts, there are several reasons:
seasonality: money off for vacation, repairs/construction, education, etc.;
the recent easing of rules of a conclusion of money abroad;
the growth of prices for goods and services for which people have to actively spend their savings.
the decrease in Bank interest rates on deposits, which lowered the yield of deposits below the level of actual inflation.
the intensification of the speculative mood of the population: people are more likely to convert their savings into different currencies, trying to win on the difference in rates and interest rates on deposits.
Comments
comments