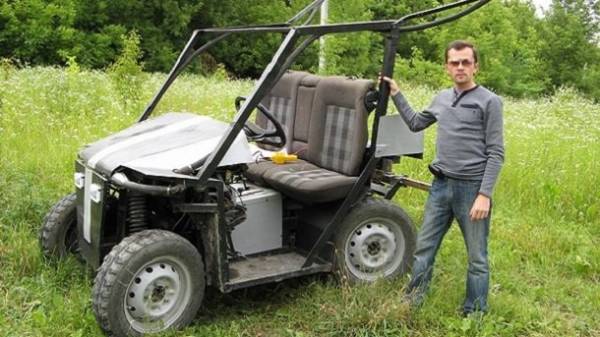 Resident of Ternopil Peter Holovaty assembled a unique tractor-terrain vehicle. The master worked on the car for three years. After — testing on different types of roads and surfaces, reports te.ridna.ua.
"While I did it, then often the wife recalled, not angry quiet word, say — disappear constantly in the garage, clothes are dirty, smell bad, start a family on a tractor, but really it was after work I had dinner and went to the garage to work until 12:00 am, approximately, and so, almost every day," recalls the designer.
"I have a plan and objectives for the main characteristics of the machine and it was still quite challenging: all wheel drive, block all wheels to maximize traction and terrain, full control (the simultaneous rotation of all wheels) — to reduce turn radius and rotation, independent suspension all wheels for flotation and comfort, hydraulic disc brakes on all wheels for effective braking, lots of gear back and forth — in order to better use the power of the engine and to save fuel, a roof and loading platform, for protection from the elements and for transportation of small loads without a trailer, the presence of linkage for agricultural implements for the use of the machine as a mini-tractor. The rest of the secondary features was done with the idea of their best performance," said Peter Holovaty.
As for parts – the car presents almost all domestic and Soviet car industry.
In the design of auto used spare parts from different techniques: the two-stroke motor from the FDD (the people — "Helen Keller"), bridges from LUAZ (Volyn) — because they have a locking mechanism, the axle shaft from "Zaporozhets", wheel hubs and steering knuckles from Tavriya, gearbox from rear wheel drive cars VAZ, reverse gear from the same FDD — gives the opportunity to any of the forward gears to reverse, it happened 20 forward and 20 back. Suspension (spring struts, levers, extensions) from Tavria, UAZ cardan, two steering gears from a front wheel drive car VAZ, mufflers from a motorcycle "IZH the planet" wheels from "Fields", and the rest of the secondary part, or homemade, or from the most diverse techniques, which he found at hand.
Not counting the time the inventor spent on the production of Rover 2 thousand dollars. In return for multi-purpose vehicle for home and leisure.
Comments
comments