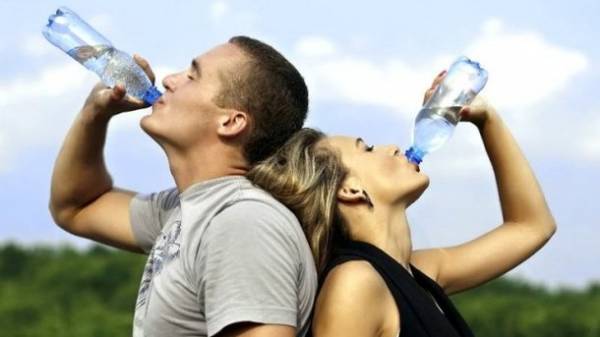 Heat is not the best time for sports. Grueling physical exertion in hot weather can lead to dehydration and heat stroke. If you still can't without training, take into consideration these simple rules that will help you to overcome all the difficulties of doing sports in the heat, writes likar.info.
1. Keep the water to yourself
The most important part of safe training – timely replenishment of losses of liquid which comes out from the body with sweat and fumes. In the heat is very easy to get dehydrated, especially if you practice strenuous physical load on the street.
During training, it is recommended to consume 150-200 ml of water every 15-20 minutes. At the same time for a couple of hours before exercise is recommended to drink two glasses of water.
2. Wear light clothes that wick sweat
Your clothing should be lightweight and comfortable. Sports are best suited clothing is made of fabric that wick sweat well. For example, cotton is actively absorb moisture, making clothes heavy and uncomfortable. Special sports clothing based on the breathability of the fabric helps to evaporate the sweat, thus leaving you dry.
In the heat, it is preferable to wear clothes of bright colors that will reflect the sun's rays.
3. Less nagruzilas
You probably noticed that you perform exercise in the heat is significantly heavier. The heart rate increases because the body sends more blood to the skin to cool it.
To training for the body a lot of stress, in the heat prefer the simple exercises. Reduce workout duration, and also watch out for their health. If you feel tired, then exercise has to stop.
4. Engaged in the mornings
In the hot season it is best to train until noon. Early morning not so hot, and you can easily use this time for sports. Moreover, morning exercise is much better daytime and evening. So you energize for the entire day and will be able to speed up your metabolism.
5. Use a sunscreen and sunglasses
Sunscreen just on the beach. If in hot weather you exercise outside, protect your skin and eyes. Use a sunscreen and sunglasses, UV. Sunscreen must protect from UVA rays and be water resistant.
Comments
comments