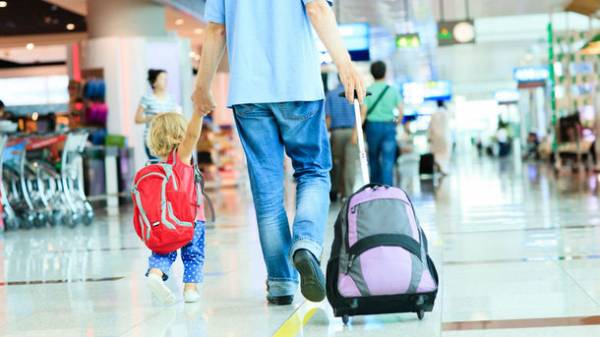 Many Ukrainians accustomed to the tedious registration procedure at the reception at the airport and don't know about the benefits of independent and automatic checkin. So, self web check-in (self check-online) allows you to check in, starting 48 hours before departure. All you need is to visit the airline's website or use special application. Putting your data, you can take a few minutes to receive an electronic boarding pass to your email. You can print it or show on smartphone, tablet.
Auto check-in (automated check in) is possible if the airline has your data (passport number, e-mail and phone). If at the time of booking of the ticket was correct, for 12 hours prior to departure, the system automatically registers all who have not done so already, generate a boarding pass and will allocate everyone a seat according to the fare type. Furthermore, passengers with a single booking will always be there.
By the way, from June 22, UIA offers passengers travelling with children or Pets, unaccompanied children, passengers with special needs, as well as passengers carrying weapons, the option of remote check-in on the website or using the mobile app. Previously, such passengers check-in manually at the airport was a must. Now they need to assist only to undergo the formalities. But travelling with children can immediately go to the aviation security control and passport control.
Online registration for a private flight opens 48 hours before scheduled departure.
Other advantages of online registration:
Even if you don't have time to register from home/office/taxi, before closing the rack succinates directly in the airport terminal with your smartphone or tablet, keeping a picture of the QR code;

If you are traveling with Luggage, there is a separate stand – drop-off counter. Usually there is no queue. You will have to show a boarding pass to leave the suitcase and get a Luggage tag.
We will remind, the check-in counters at the airport – not the most economical option. The low-cost airline Ryanair takes over the services of airport check-in 50 euros and 15 euros for printing boarding pass. airBaltic and Wizz Air slightly less than EUR 30. UIA from July 1, in the test mode enters the paid registration (20 euros for the registration and/or print the boarding pass at the counter) for flights between Kiev and Riga. Over time, this approach will be applied across our network, but passengers will have an incentive to register online, and the carrier will be able to pay less for the services agents at the airport and, consequently, to reduce tariffs.
Comments
comments