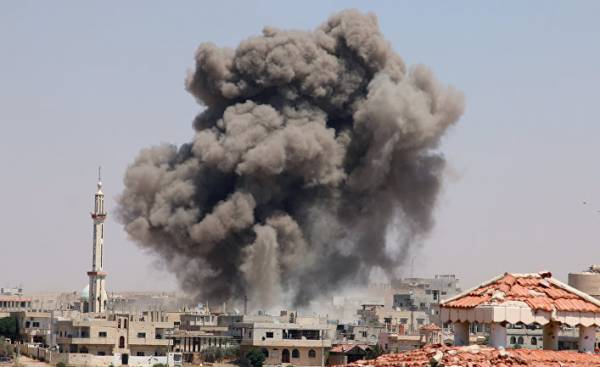 According to the official report by the Iranian news Agency "Tasneem", the launch of ballistic missiles distant radius of action is the response of Tehran to the terrorist attack of ISIS (banned in Russia organization — approx. ed.) in the building of the Parliament and the memorial to Ayatollah Khomeini, during which 18 people were killed. After triple terrorist attack in the Iranian capital, the Iranian Islamic revolutionary guard Corps (IRGC) accused Saudi Arabia of involvement in the attack, promising to "bloody revenge".
The current missile strike by Iran, into Northern Syria is a precedent for a number of reasons. First, the first time Tehran launches a rocket of a class "earth-earth" on targets located outside of the state since the end of the Iran-Iraq war (about 30 years ago). Second, this is the first such test of Iranian ballistic missiles, "Shihab". Thirdly, we are witnessing new tactics of the Iranian armed forces in Syria, before they were not used.
Although the attack was caused by Islamic state, enemies are nearly all the players in the middle East, in this case we are talking about the message sent by Tehran to the United States and its allies in the region. The missile launch was made almost immediately after Washington introduced new sanctions against the Islamic revolutionary guard Corps.
The sanctions imposed by the Sunni countries (under Saudi Arabia) against Qatar, among others stems from the close relations of Qatar with Iran. This all happens a few weeks after the official visit of the President of the United States Donald Trapm in Riyadh and Jerusalem. As you know, trump is trying to form anti-Iran coalition in the middle East.
Apparently, Iran has decided to use a missile strike in North Syria in an open challenge to the United States. This is a clear message to the America and its main allies in the region — Israel and Saudi Arabia.
Comments
comments